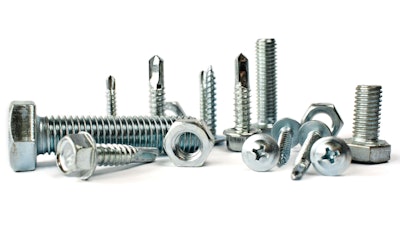 iStock
The October Fastener Distributor Index — operated by FCH Sourcing Network in partnership with R.W. Baird — was posted on Nov. 7, showing nearly a four percentage-point deceleration from September to a mark of 52.0.
R.W. Baird analyst David J. Manthey, CFA, notes in the index that the slowdown was mainly due to the seasonal adjustment factor, as October is normally a strong month for respondents.
"Sales trends on a seasonally-adjusted basis were weaker m/m, as was the employment index," Manthey said. "The six-month outlook improved, however, and the Forward-Looking Indicator (FLI) was stable. Overall, October market conditions were a bit weaker than would be expected, given normally strong seasonal trends, but underlying momentum was fairly steady with September.
For the index, any reading above 50.0 indicates expansion, whereas anything below 50.0 indicates contraction.
The index had been in expansion territory for 20 consecutive months before dipping to 48.3 this past June. The index has averaged a reading of 53.4 over the past eight months (March-October).
In October's FDI, metrics for employment (48.7), supplier deliveries (55.1) and month-to-month pricing each fell at least two percentage points from September. Year-to-year pricing (84.6) gained 5.4 points, while respondent deliveries (69.2) and customer inventories (52.6) were relatively flat.
The FLI, measuring distributors' outlook for the next six months, bumped up 0.2 points from September, but was the sixth-straight month in notable contraction range.
"October remained stronger than many expected, firmly in expansion territory at 52.1," FCH managing partner Eric Dudas told Industrial Distribution. "Offsetting the positive news, this is amid clear signs of contraction and an overall softening outlook as shown in the weak FLI, which came in at 44.2."