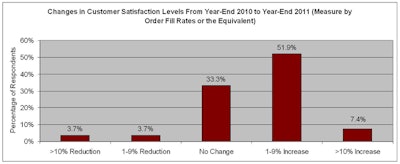 Tompkins Supply Chain Consortium Examines Drivers Behind Improved Inventory Picture
Raleigh, NC — Sales growth, as well as the availability of better tools and technologies, has helped drive a reduction in finished goods inventory levels over the past two years, according to the new report Finished Goods Inventory Management: Presenting Growth & Adaptation Through Metrics, by the Tompkins Supply Chain Consortium.
The survey-based report also reveals that despite cuts in inventory, customer satisfaction has not been adversely affected. "Customer satisfaction levels in the finished goods industry (as measured by order fill rates) have actually increased over the past couple of years," says Bruce Tompkins, the Consortium's Executive Director.
Since 2010, Tompkins notes that there has been greater collaboration and sharing of responsibility in general across companies when it comes to inventory. "Different departments such as forecasting, sales and manufacturing are more accountable for inventory levels," he says. "This may be due to sales and operations planning (S&OP) processes increasing their cross-functional role for setting inventory targets."
The finished goods inventory report, which is based on a survey of leading manufacturing, retail and distribution organizations, affirms that the areas in need of significant changes are processes, inventory policies, suppliers and people.
Additional findings include:
A majority of those surveyed already have an S&OP process in place, but the success level of their processes is unclear.

Inventory turns, inventory balances and inventory accuracy are the top three measurements used for finished goods inventory.

Inventory accuracy is viewed as an important metric by more than 73% of respondents.

Nearly half of the survey respondents already perform the inventory management practices identified in the report.
Below are some specific comments from respondents regarding other finished goods inventory practices and barriers that they felt were important:
Sales and Operations Planning – Companies indicate that S&OP, metrics and accountability are key for continued improvements. Others indicate that S&OP is not working for their organizations to reduce inventory levels.
Shared Measures – Implementing shared measures are important across manufacturing plants, demand management and customer service.
Technology Applications – One company has implemented an inventory optimization system to set inventory levels with capital constraints.
Challenges Remain – It is difficult to find the right balance between too much stock and customer fill rates. Some markets and regions do this well, and some are okay but could improve. SKU proliferation continues to make it difficult to manage finished goods inventories as they would like to manage them.
Response Time – Another company is working hard on flow and the speed of flow so response time (cycle time) is targeted.
Business Conditions – Business conditions have improved some, which has made continued inventory reduction possible.
For more information, download the Finished Goods Inventory Management Report at: http://www.tompkinsinc.com/publications/reports/finished-goods/
The Consortium also has a LinkedIn group and Xing group for organizations that are interested in staying current on the latest in supply chain benchmarking and best practices.
About Tompkins Supply Chain Consortium
Tompkins Supply Chain Consortium is the premier source for supply chain benchmarking and best practices knowledge. With more than 350 participating retail, manufacturing and wholesale/distribution companies, the Consortium sponsors a comprehensive repository of over 10,000 data points complemented by search capabilities, online analysis tools, topic forums and peer networking for supply chain executives and practitioners. The Consortium is led by the needs of its membership and an Advisory Board that includes executives from Domino's Pizza, Ingram Micro, Hallmark, Kane is Able, Miller-Coors, The Coca-Cola Company, Target and University of Wisconsin. To learn more about how your company can become a member of the Supply Chain Consortium, contact John Foley, 919-855-5461 or visit www.supplychainconsortium.com.