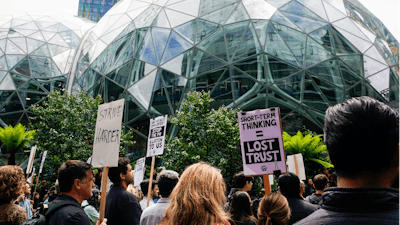 AP Photo/Lindsey Wasson
SEATTLE (AP) — Telling executives to "strive harder," hundreds of corporate Amazon workers protested what they decried as the company's lack of progress on climate goals and an inequitable return-to-office mandate during a lunchtime demonstration at its Seattle headquarters Wednesday.
The protest came a week after Amazon's annual shareholder meeting and a month after a policy took effect returning workers to the office three days per week. Previously, team leaders were allowed to determine how their charges worked.
The employees chanted their disappointment with the pace of the company's efforts to reduce its carbon footprint — "Emissions climbing, time to act" — and urged Amazon to return authority to team leaders when it comes to work location.
Wearing a black pirate hat and red coat, Church Hindley, a quality assurance engineer, said working from home allowed him to live a better, healthier life.
"I'm out here because I refuse to just sit idly by while mandates are dictated from above down that don't make sense and hurt the planet, hurt families and individual lives," Hindley said. "And just to get us into a seat at the office for their tax incentives."
In a statement, Amazon said it supported workers expressing opinions.
As of Wednesday morning, organizers estimated more than 1,900 employees pledged to walk out around the world, with about 900 in Seattle. Many participated remotely, but hundreds gathered at the Amazon Spheres — a four-story structure in downtown Seattle that from the outside looks like three connected glass orbs.
"Today looks like it might be the start of a new chapter in Amazon's history, when tech workers coming out of the pandemic stood up and said, 'We still want a say in this company and the direction of this company,'" said Eliza Pan, a former Amazon corporate employee and a co-founder of Amazon Employees for Climate Justice, a climate change advocacy group founded by Amazon workers.
Amazon, which relies on fossil fuels to power the planes, trucks and vans that ship packages all over the world, has an enormous carbon footprint. Amazon workers have been vocal in criticizing some of the company's practices.
In an annual statement to investors, Amazon said it aims to deploy 100,000 electric delivery vehicles by 2030 and reach net-zero carbon by 2040. But activists say the company must do more and commit to zero emissions by 2030.
"While we all would like to get there tomorrow, for companies like ours who consume a lot of power, and have very substantial transportation, packaging, and physical building assets, it'll take time to accomplish," Brad Glasser, an Amazon spokesperson, said in a statement.
Since more employees returned to the office, Glasser said, there has also been a good energy on the company's South Lake Union campus and at its other urban centers. More than 20,000 workers, however, signed a petition urging Amazon to reconsider the return-to-office mandate.
In a February memo, Amazon CEO Andy Jassy said the company made its decision to return corporate employees to the office at least three days a week after observing what worked during the pandemic. Among other things, he said senior leadership watched how staff performed and talked to leaders at other companies. He said they concluded employees tended to be more engaged in person and collaborate more easily.
In a note asking Amazon employees to pledge their participation in the walkout, organizers said the company "must return autonomy to its teams, who know their employees and customers best, to make the best decision on remote, in-person, or hybrid work, and to its employees to choose a team which enables them to work the way they work best."
Pamela Hayter, a project manager at Amazon, started an internal Slack channel called "Remote Advocacy" after the company announced its return-to-office policy. Its 33,000 members share stories about how the return-to-office policy impacted their lives.
"I cannot believe that a company in this day and age, a company that claims to be an innovative leader in its space, would do that to one of its most precious resources — its employees," Hayter said during the protest in Seattle, drawing applause from the crowd.
The walkout follows widespread cost-cutting at Amazon, where layoffs have affected workers in advertising, human resources, gaming, stores, devices and Amazon Web Services, the company's cloud computing division.
Like other tech companies, including Facebook parent Meta and Google parent Alphabet, Amazon ramped up hiring during the pandemic to meet the demand from homebound Americans who were increasingly shopping online to keep themselves safe from the virus.
Amazon's workforce, in warehouses and offices, doubled to more than 1.6 million in about two years. But demand slowed as the worst of the pandemic eased. The company last year began pausing or canceling warehouse expansion plans and has cut 27,000 jobs since November.