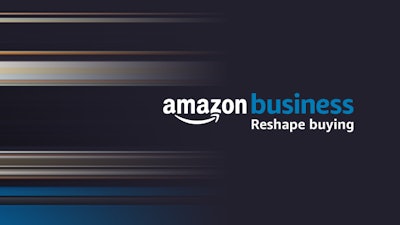 Amazon has experienced a windfall of sales amid increased online shopping during the COVID-19 pandemic, its 2020 first quarter sales of $75.5 billion surged more than 26 percent year-over-year. Meanwhile, its B2B products business unit, Amazon Business, has quietly cruised along as a e-commerce marketplace channel for thousands of manufacturers and distributors.
Amazon hasn't broken out sales figures for Amazon Business in several years, but it's widely regarded as one of the largest B2B sellers of industrial, office, healthcare and institutional products.
Industrial Distribution recently spoke with Chris Caruso, Amazon Business' global leader for pricing, selection and supplier tools, where he works to ensure business customers have access to the products they need at competitive prices. He's been with the company for more than 7 years, and he also oversees the operations of the US sales team and the development of tools that help suppliers sell on Amazon Business. Currently, his team is working on sourcing health and safety equipment for COVID-19 Supplies.
We chatted about the Amazon Business' current role and its relationship with distributors and manufacturers. Read on to see our conversation:
Industrial Distribution: How does Amazon Business support industrial manufacturers and distributors in ways that are unique to the global retail market?
Chris Caruso: Third-party selling partners, like industrial manufacturers and distributors, make up over half of the sales on Amazon Business, selling more than 4,000 items per minute on average. Amazon dedicates billions of dollars every year to helping these small and medium-sized businesses (SMBs) operate successful online stores. Selling on Amazon Business gives small manufacturers and distributors access to millions of customers and the necessary tools to meet their demands, levelling the playing field for sellers without spending valuable resources. Last year, Amazon debuted more than 225 tools and services to help SMBs keep up with fulfillment and inventory, manage pricing, enhance business reports and more.
ID: In your words, what are Amazon Business's primary competitive advantages in B2B? What are you providing that customers are not getting elsewhere?
CC: By utilizing an online B2B store like Amazon Business, procurement leaders can more easily find small and diverse business sellers, purchase from them, and track and report on their spending. Moving to online procurement gives business leaders the ability to look at their spend holistically and determine what is strategic, how to consolidate spending and where to improve efficiency. For example, traditional sales channels make buyers, like federal, state and local governments, too expensive to reach. Resource-strapped small businesses have successfully reached unconventional B2B buyers like the government through our online stores.
ID: What opportunities are inherent in your business model (e.g. partnerships; online store)?
CC: Amazon Business' credential seller program allows selling partners to feature and display one or more of 11 nationally recognized diversity, ownership and quality credentials. This includes credentials such as ISO: 9001 certified, small business, women-, minority-, veteran- and LGBT-owned businesses to their seller profiles, which are displayed to business customers. This allows business customers to easily find and support diverse selling partners, as well as track certified supplier diversity spend across their organization to simplify their goal reporting. Recognized certifying agencies include the Department of Veterans Affairs (VA), National LGBT Chamber of Commerce (NGLCC), National Minority Supplier Development Council (NMSDC), Small Business Administration (SBA), System for Award Management (SAM), Women's Business Enterprise National Council (WBENC) and more.
ID: As Amazon Business continues to grow, how do you plan to enhance your capabilities to best address industry needs?
CC: We constantly evaluate the changing demands of our customers and selling partners, so we can meet their needs. Listening to their feedback allows us to identify opportunities to enhance our store and deliver more value. We invested $15 billion last year in a variety of infrastructure, personnel, programs, tools and services to ensure small and medium-sized business' success so that they are properly equipped to sell to customers. As a result, American SMBs selling in Amazon's stores had a record-breaking year in 2019, with more than 15,000 businesses surpassing $1 million in sales and nearly 25,000 surpassing $500,000 in sales. Additionally, we have deployed machine learning and AI-driven capabilities in our store to help solve challenges like rogue spend, fraud, lack of visibility, integration with other systems, inferior user experience and more. Leveraging AI-powered product recommendations, search and merchandising personalizes and streamlines the B2B buying and selling experience.
ID: Do you have any advice for small or mid-sized manufacturers and distributors who are struggling to establish themselves online?
CC: Our best advice for small or mid-sized manufacturers who are struggling to establish themselves online is to reach out to us. We have teams dedicated to helping our selling partners set up with Amazon Business. We also have plenty of resources on our Seller Central site, including ten tips for successful selling on Amazon. To further support third-party selling partners, Amazon Small Business Academy is available to help selling partners tap into the potential of the digital selling.