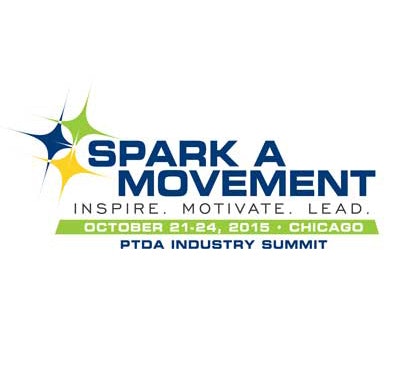 CHICAGO — The Power Transmission Distributors Association (PTDA) has opened advanced registration for its 2015 Industry Summit to be held at the Hilton Chicago, Oct. 21-24, in Chicago. More than 550 delegates, representing 240 PTDA distributor and manufacturer member companies in the power transmission/motion control industry are expected for cross-channel networking, shared learning and collaborative experiences at this year's Industry Summit, titled, Spark A Movement: Inspire. Motivate. Lead. Those registering before Aug. 14 receive a $100 discount.
The PTDA 2015 Industry Summit is starting a movement of its own by offering three keynotes in one with a session called IML Talks, playing off the theme, Inspire. Motivate. Lead. Speakers include: Phil Hansen, an artist with a debilitating physical limitation; Ryan Estis, a former chief strategy officer for a global advertising agency; and Scott Klososky, a technologist who returns to the Industry Summit after receiving in 2013 the highest ratings of any other speaker. Another returning speaker is Alan Beaulieu, who delivers his uncannily accurate economic forecast as the Closing Keynote.
The signature event of the PTDA Industry Summit is the Manufacturer-Distributor Idea Exchange (MD-IDEX). MD-IDEX is a time- and cost-effective forum to bring together distributor and manufacturer executives for high-level discussions on market strategies and issues to mutually benefit each other and end users. Distributor and manufacturer members alike laud MD-IDEX as one of the most organized face-to-face cross channel business meeting programs.
Additional cross-channel networking opportunities abound at the PTDA 2015 Industry Summit. From receptions and networking lunches, to a Roaring 20's theme party at Chicago's Navy Pier, participants will find takeaways that can be put to use right away to achieve success going forward. For more information visit ptda.org/IndustrySummit.
The Power Transmission Distributors Association (PTDA) is a global association for the industrial power transmission/motion control (PT/MC) distribution channel. Headquartered in Chicago, PTDA represents power transmission/motion control distribution firms that generate more than $16 billion in sales and span over 3,400 locations. PTDA members also include manufacturers that supply the PT/MC industry.