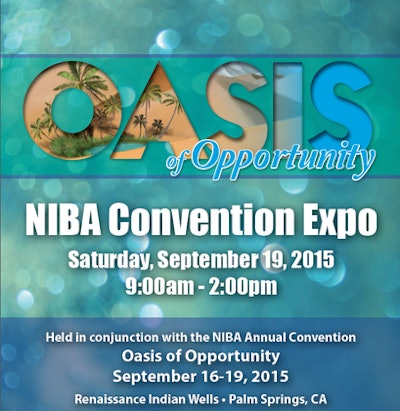 This year's theme for the NIBA Convention is OASIS of Opportunity. Is there a better way to sum up what the Expo is all about? The Expo truly is an OASIS of Opportunity to promote our products and services to our customers.
It's hard to believe it been more than six months ago we met in Seattle to "Rise to the Top". What an opportunity that was to network and spend time with many customers and colleagues.
Is your Company ready to take the OASIS of Opportunity the 2015 NIBA Convention & Expo has to offer in beautiful Indian Wells, CA? The Expo is the perfect opportunity to showcase your products and services and to connect with many of your customers all in one location.
The Renaissance Indian Wells Resort & Spa and surrounding Palm Springs area is a perfect setting for the Convention. The Program Committees challenge to our members is to fill up enough of the resort to have the entire property to ourselves for those days! Let's make 2015 an OASIS of Opportunity to have our biggest Convention and Expo ever!
The Program Committee continues to listen to the members and in the past few years we have made a few changes to the schedule. 
Streamlined schedule – Be sure to see the schedule details online and make your travel schedules accordingly. Book flights early to fly into Palm Springs as flight schedules are more limited than into larger cities. Flying into Orange County or LAX is also a good option.
Early Set-up Time on Friday – Exhibitors can setup 1:30 PM through 7:00 PM Friday and 6:00 to 8:00 AM Saturday. This should allow ample time to track down any shipments and still be ready for Manufacturers Hospitality Night Friday night.
Convention Meals – breakfast and lunch will both be available in the Foyer right outside the Expo Hall area.
Single Booth Only – Again this year only single booths will be available for members due to the great demand for the Expo space. Each exhibitor will be limited to one 10' x 10' booth.
Considering the Beautiful Venue and surrounding area we will be at this year, the networking opportunities before, during and after the Expo, this year's Convention Expo is one you will want to be a part of. Be sure to take advantage of the OASIS of Opportunity this year's Convention has to offer.