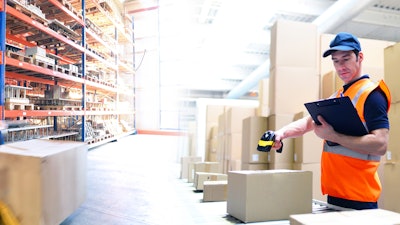 iStock
More and more businesses are beginning to acknowledge that the technology solutions they have in place may not be enough to support the growing demands of their business. When it comes to industrial distribution, businesses vary widely in terms of the technology at the foundation of their operations but, for many, their challenges are the same. A 2019 study by Zebra Technologies Corporation surveyed businesses on their current and planned strategies for modernizing their warehouses, distribution centers and fulfillment centers. Of those surveyed, 77 percent said they need to modernize operations across the warehouse to remain competitive in the on-demand economy, while acknowledging they are slow to implement new mobile devices and technology.
Where Do We Go from Here?
Getting beyond the basics often results in the kind of distinctions that can lead to advantages in efficiency, consistency and transparency and, according to Gary Cash, VP/General Manager of Matthews Automation Solutions, the first step is a comprehensive review of the current systems in place. Ideally, distributors are looking for non-value-added activity and, once identified, specific technologies can be explored to enhance efficiency.
"Most likely, a review of Warehouse Execution System functionality will yield the most opportunity for improvement," says Cash, whose company focuses on automating warehouses and DCs with software, controls, picking systems, robotics and other technologies. According to Cash, in today's software market, many of the newer offerings are designed to maximize flow by managing the work moving from one step to the next in the process, creating a balance and flow that maximizes resource utilization. "This balancing effect ensures that no resources are overloaded, and that no resources are starved for work," explains. "With intelligent flow management by the WES, fewer resources and shorter lead times are required for the same amount of work."
And lead time reduction is a key issue for distributors. According to the aforementioned Zebra Technologies study, nearly half of businesses surveyed said the primary driver for modernizing their warehouse was to improve delivery times to their customers.
According to Mark Wheeler, director of supply chain solutions for Zebra, the company's customers are expecting solutions that enhance speed, but also prioritize accuracy. And there's no room for error. "The expectations on accuracy are basically 100%," explains Wheeler. "Any error is going to reflect poorly on the company, and it's going to be costly to reconcile or resolve. So, we have to rely on technology to error-proof the operations."
From Zebra's perspective, wearable scanning devices are ticking a lot of boxes for distributors in both high volume operations and in lower staffed branch environments. "It's faster and more ergonomic, with better speed," says Wheeler. Zebra says it's latest product, FulfillmentEdge, can actually improve warehouse worker productivity by up to 24 percent through a combination of software and optional accessories like ring scanners and wearable computers – all of which can be easily implemented around a legacy WMS. The last part appeals to the many distributors who want technology upgrades but can't accommodate the related downtime of actually implementing them.
"The workers can pick it up and be production really quickly," says Wheeler, adding that the ease-of-use the FulfillmentEdge products offer means an added benefit during labor shortages. "Being able to attract and retain and quickly onboard labor is something customers are very focused on."
Data, The Right Way
For Mark Jensen, senior director of product management – distribution at Epicor Software Corporation, there are two key tech areas that distributors need to get their arms around in order to be competitive. One, he says, is e-commerce – as more than just an ordering tool for customers but, also, a way to connect with them. But from an internal standpoint, Jensen says it's all about the data.
"A distributor must have a business analytics system that is allowing them to be able to see, at a very high level, the dashboards of KPIs that they're tracking across the company," says Jensen. Part two is being able to also utilize business analytics to drill into that information. "They need to be doing more than just printing out financial statements; they need to be thinking about the dashboards, and the way in which they're running their business, and how parts of that are being communicated out to their team members as well."
ERP and CRM systems go hand in hand with data, and it's important for distributors to optimize these so they can start to link into outside data sources as well, says Jensen. Businesses need to be thinking about how they can utilize that, he says, including "working with an outside IT service firm to help them in developing out the API and the integrations into their ERP system."
Tech FutureScape
And if the latest high-tech trends weren't disruptive enough, there's more on the way. According to Cash, "a combination of greater software functionality coupled with new technologies, such as Autonomous Mobile Robots, are poised to work together to reduce labor requirements, reduce capital investment and maximize product flow." And if you can't quite picture autonomous bots buzzing around your facility, you might after you consider the business case. "While AMR's alone are useful in managing repetitive or difficult tasks, when coupled with intelligent software modules, the AMRs can dramatically increase the flexibility of the system by moving from area to area when needed," he explains. Additionally, since AMRs are free to move anywhere in the system, they can be instantly deployed from one task to another as the workload moves through the system.
For Epicor, artificial intelligence is of great interest and, according to Jensen, the company is looking into how it can be applied to the inventory forecasting process. Secondly, it's automation in general that will have the greatest impact near-term. "We're really seeing the number of inquiries increase from distributors around that – whether it's carousel systems or robotics; it's ways they can automate that warehouse," he says. "Between AI and the automation side of it, I see those as the two growing trends in the near future."