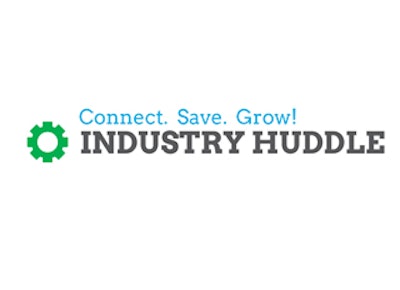 Zac Haines is the Executive Director of the DPA Buying Group, an organization that focuses on making distributors successful and saving them money. This last year, he has also embarked upon an endeavor to create a new kind of social media project with similar aims. Industry Huddle is a new business-to-business social media site where companies can create connections and relationships with other companies without all the noise of other, less targeted services. Industrial Distribution had a chance to chat with Zac Haines and Robert Vocke, VP of Marketing for Industry Huddle, about the endeavor, and what the project's goals are going forward.
ID: How did this idea for Industry Huddle develop?
Haines: Running a buying group is kind of like herding cats: you have a lot of experience with distributors and manufacturers and the whole supply chain. At DPA, we happen to have four different market segments that we are in: Safety, JanSan, Industrial Packaging, and Specialty Restoration products.
Industry Huddle really came out of a need for our members to communicate with each other for procurement opportunities, to find sales leads, and to really just make things efficient. We've seen a wave of social media (Facebook, LinkedIn, and Twitter), but I feel like that all of those different sites fall short of what businesses are looking for in a B2B business site. We wanted to offer solutions for their companies versus just a professional networking tool.  With Industry Huddle, you have the opportunity to identify as a manufacturer or dealer or wholesaler, and there is also the opportunity to sign on as a contractor, end user, retailer, franchiser, buying group, association, or trade publication.
There are over forty different product categories on Industry Huddle, and every industry has its own "Huddle." Each huddle features discussions, classifieds, promotions, resources and members all related to that single industry vertical, whether it is Tools & Fasteners or Aftermarket Automotive.
ID: What are some of the other features available to users?
Haines: There is also the opportunity to make online sales, and furthermore, the ability to buy and sell products only from or to the company or companies that you choose. If you are a manufacturer and you only sell to distributors, you have the ability to make your online sales only available for distributors to look at, so that you are not inadvertently selling direct to the consumer. You can filter this feature through the site and your online sales will be hidden from all other company types.
Industry Huddle is not just looking to connect users, but also to save them money. The feature "Huddle Savings" has allowed us to partner with a wide array of operational business savings providers. Companies like Chevron, Texaco, Staples, Sprint and dozens more offer out members discounts just because they have signed up for a free Industry Huddle account.
Companies also have the opportunity to post press releases, photos and videos for product demonstrations, promotions, and more. Every company that uploads a document or promotion has the ability to choose who or what industry can see it, or multiple industries if they so choose. It can be a product photo or document or price list, and it will show up in that industry vertical's Huddle. The Industry Huddle advantage: one place to find all these special deals and savings, news and more for your industry or industries.
Since this is a site designed for companies, Industry Huddle encourages users to create only one account per company. However, any company can grant four other authorized representatives on the account, allowing multi-person access at all times. Companies can customize their URL to say www.industryhuddle.com/companyname, just like on other social media sites.
ID: Can you be a member of as many industries as you want?
Haines: Yes - that's where I see the future. The lines between the industries are becoming blurred. If you want a tools distributor, the odds are that you are involved with someone who is also in electrical and safety and maintenance. There is a lot of crossover in the industry and our site helps promote and facilitate that interconnectivity between the different verticals.
We are looking to have all the information that companies need and all in one place, rather than forcing people to visit dozens of different websites that each function differently. Industry Huddle standardizes the information that you are looking for. There is not another social networking site that is industry product specific.
ID: Why did you personally see the need for this social media site?
I think we see the benefits with what Facebook has been able to do on a personal level with keeping people better connected. We need the same kind of virtual online environment with product industries. The need really arose out of a need for better communications. I can't tell you how many times reps come to my office wanting to know if I can find a manufacture that is looking for representation or when a manufacturer is saying "I need a good rep in the Midwest." We have distributors constantly looking for new products for their customers. Their option is to Google for the product and then navigate through all of these thousands of websites out there to find the product. We've got a whole lot of different outlets of information and basically, Industry Huddle is for communication and for saving money. The whole concept of going to one place to find promotions and different savings opportunities for your industry will save you so much time. I feel like people are wasting so much time and effort trying to find things that Industry Huddle can provide them.
ID: Without all the noise that a business Facebook or Twitter page has?
Vocke: Exactly. You get the updates you want to see.
ID: How are you guys recruiting companies for this?
Haines: We really have a daunting task ahead of us. With over forty different product industries, there are a lot of companies to reach out to with this new site. We have certainly invited the companies associated with DPA. Most have joined and signed up and are taking advantage of this free service. Those companies have invited others through the "grow your network feature" where you can import your Gmail accounts or Outlook contacts and you can invite all your customers and contacts to come and see your page and sign up for free. It has really been word of mouth. We are going to start aggressively advertising. We are working on featuring special industries of the month, running promotions, giveaways. It is going to take direct advertising as we go forward.
Vocke: This is the way everything is headed. Lot of companies are moving away from their old style of communication and it is all going online. The benefits are there: now we are just trying to demonstrate it to the companies. We try and make it really easy: we allow them to keep the info they want private, we help them to do that so they can control who they are contacting and doing business with. The biggest ROI has been getting a couple of companies interested, so that they can see it and are incentivized to use the site for all of their contacts in the supply chain.
Haines: This is work related. It's not about building likes, its building relationships. We've all been there where the contact that we used to have at a company is no longer there, or the position may have changed hands three times since we last did business with them. Industry Huddle hopes to change that. No more random emails that change from year to year. Industry Huddle profiles ensures you're your connection with that company is consistent regardless of the internal changes.
For more information, visit www.industryhuddle.com.