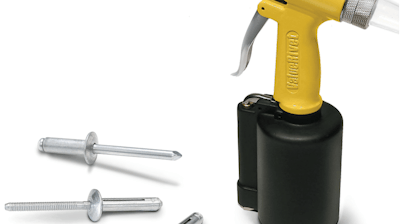 Howmet
TRACY, Calif. — Howmet Fastening Systems, a leader in innovative fastening solutions, announced a strategic partnership with Austin Hardware, a prominent name in the industrial and vehicular hardware distribution sector.
Under this collaboration, Austin Hardware will serve as the exclusive master distributor for our Value-Clamp structural blind rivet line.
The Value-Clamp product line offers an extensive range of options, available in all common materials and head-styles, and is offered in both 3/16" and 1/4" diameters. Boasting shear and tensile strength values on par with industry leaders, the Value-Clamp is readily available from stock, ensuring swift access for our valued customers.
"Working hand in hand with Austin Hardware to introduce the Value-Clamp product to industries and customers where downtime is not an option is a significant stride that brings immense value to both of our organizations," said Ryan Bonner, general manager for Howmet's industrial distribution group. "This partnership allows us to expand our footprint in the marketplace, especially within the commercial transportation industry, where Austin Hardware is a recognized leader in the distribution of structural blind rivets."
"Our mission is to provide unmatched value to our customers through our partnership with Huck and their exceptional product lines. For decades, Austin Hardware has proudly served as one of the select Partner Distributors for the Huck division of Howmet Fastening Systems," added Austin Hardware National Sales Manager for Fasteners Steave Klein. "To further support our customers, we have made a substantial investment in inventory, ensuring ready access to the IDG Value Clamp line of blind structural rivets and alleviating industry shortages of this essential fastener."
Serving the hardware industry since 1960, Austin Hardware & Supply Inc. is a wholesale distributor of specialty industrial and vehicular hardware solutions, including fasteners, access hardware, chemicals, hinges, MRO products, engineered products and more. The company has nine locations throughout the U.S. with an extensive inventory of top-quality products shipped quickly, accurately, and at competitive prices and supported by experienced, professional customer service representatives dedicated to each customer's success.
The collaboration between Howmet Fastening Systems and Austin Hardware represents a union of industry expertise and a shared commitment to delivering top-tier solutions to the market.