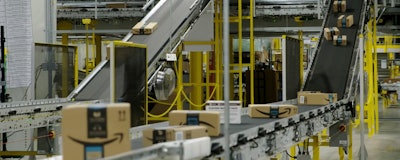 SEATTLE — Amazon.com announced on Monday plans to open its sixth Ohio fulfillment center in West Jefferson, which will create more than 1,500 full-time positions by the end of 2019. In addition to the company's fulfillment centers that are currently operating in Etna and Obetz, Amazon will launch operations at previously announced fulfillment centers in North Randall and Monroe by the end of 2018, and in Euclid in 2019.
"We are excited to open a new, state-of-the-art fulfillment center in West Jefferson, and to continue innovating in Ohio — a state committed to providing great opportunities for jobs and customer experience," said Mark Stewart, Amazon's Vice President of North America Customer Fulfillment. "Amazon is committed to providing great opportunities for employment and creating a positive economic impact for the region. Our growth in Ohio is the result of an outstanding workforce and incredible customers and we are proud to be adding 1,500 new jobs to the more than 6,000 Amazonians already working in the state."
Amazon has created more than 6,000 full-time jobs in Ohio and invested over $2 billion in the state since 2011, both in customer fulfillment infrastructure and compensation to its employees in the state. Using methodology developed by the U.S. Bureau of Economic Analysis, Amazonestimates its investments in Ohio have created an additional 9,000 indirect jobs on top of the company's direct hires.
"Amazon is quickly becoming one of the Columbus Region's largest and most important employers," said Kenny McDonald, president and CEO of Columbus 2020. "This project underscores how our strategic location and infrastructure helps the company fulfill their customers' needs. Congrats to Amazon, the Village of West Jefferson and Madison County."
Associates at the 855,000-square-foot facility will pick, pack and ship customer items such as electronics, books, housewares and toys.