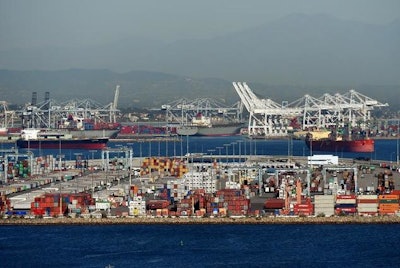 A new report says import volume at some of the nation's largest seaports returned to normal levels following a protracted labor dispute along the West Coast.
The monthly Global Port Tracker report from the National Retail Federation and Hackett Associates, however, also indicated that growth remained sluggish at western ports while eastern ports struggled to maintain their momentum from earlier this year.
Ben Hackett, founder of Hackett Associates, attributed the mixed numbers to a "stubbornly high" inventory-to-sales ratio and other economic factors.
The report estimated that the ports handled the equivalent of 1.56 million 20-foot-long cargo containers last month, an increase of 5 percent compared to May of 2014. In April, official totals showed a 6 percent increase compared to the same month in 2014.
The report expects the first half of 2015 to see a 5.4 percent increase in cargo volume compared to the same period last year, fueled by a spike in March numbers as dockworkers cleared a massive cargo backlog along the West Coast.
The International Longshore and Warehouse Union and the Pacific Maritime Association reached a tentative agreement on a new labor contract in late February, which ended a months-long slowdown in cargo handling after the previous contract expired in mid-2014. Both workers and management approved the contract late last month.
The NRF report projected that June would see cargo volumes rise by 2.6 percent, with larger increases in July and August and more modest jumps in September and October.
"There are still congestion issues to be dealt with but we're hoping to see reasonably normal back-to-school and holiday seasons this year now that the tensions of contract negotiations are behind us," said NRF Vice President for Supply Chain and Customs Policy Jonathan Gold.
The Global Port Tracker report analyzes data from seaports at Los Angeles-Long Beach, Oakland, Seattle, Tacoma, New York-New Jersey, Hampton Roads, Charleston, Savannah, Port Everglades, Miami and Houston.