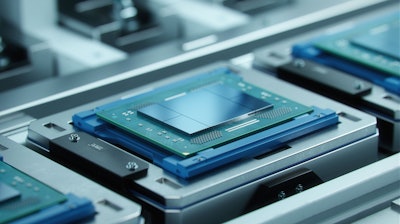 iStock
Electronics manufacturing is in danger. Nearly all of the world's most advanced chips are produced in a single facility in Taiwan, and tensions with China pose an incredible threat to its existence.
The Taiwan Semiconductor Manufacturing Company is the maker of these sophisticated chips. They produce GPUs for Nvidia and AI chips for Google, AMD, Amazon, Microsoft and many other tech giants. Nvidia CEO Jensen Huang confirmed the company's importance to the future of AI by stating, "Basically, there is air — and TSMC."
The western coast of Taiwan — the location of TSMC's chip fabrication facilities, or "fabs" — is only 110 miles from mainland China. It's an area that's already vulnerable due to the possibility of typhoons and earthquakes. But deteriorating relations between Taiwan and China make it one of the most geopolitically fraught areas on Earth. If China were to invade Taiwan, TMSC's fabs would likely become inoperable — and the global economic impact would be horrible.
Semiconductors aren't only used for computers and smartphones. They are embedded into cars, trucks, planes, industrial machinery, military devices, consumer products and more. They are essential to the modern world, and electronics manufacturers must do what they can now to mitigate future disruptions.
Building supply chain resilience in the U.S.
With such tension in Taiwan, there is a need to diversify chip production sites and bring manufacturing back to the U.S. Lawmakers and business leaders recognize the problem and have taken strategic steps to boost reshoring.
Last year, the Biden administration signed into law the CHIPS and Science Act, which provides $280 billion in new funding to boost semiconductor research and manufacturing in the U.S. Further, the U.S. has provided generous subsidies to TMSC to build two new state-of-the-art fabs in Arizona — set to be operational in 2024.
U.S. chipmaker Intel, though considered lagging in their manufacturing capabilities, has set ambitious goals to regain production supremacy over the next four years. Nvidia's Huang boldly stated that they feel "perfectly safe" about relying on Taiwan currently. As the world's most valuable semiconductor company that sources chips from TSMC, Nvidia has diversified through several of their fabs and plans to source from the Arizona facilities once they are operable.
Whether these measures will prevent catastrophe remains to be seen, but these moves to chip away at the Taiwan problem are certainly in the right direction.
More U.S. chips could accelerate reshoring in all industries
As U.S. companies like Intel produce more chips, we could see a resurgence of domestic manufacturing in the verticals that rely on them — including consumer electronics, vehicles, LEDs, solar panels, wind turbines and more. And as production ramps up in these verticals, it will create demand for more domestic suppliers and distributors of other types of parts.
We believe this will create a "trickle-down" effect that will be a tailwind for U.S. industry. More domestic productivity creates more opportunities to shorten supply chains, build resilience, and strengthen U.S. competitiveness at this pivotal moment.
Fasteners: A small but mighty component in the chain
Fasteners may be tiny, but they play a crucial role in bringing electronics to life. Blue Ribbon Fastener is a strategic partner for electronics manufacturers that are focused on building supply chain resilience and reshoring their manufacturing capacity.
We have made significant investments to increase our electronics hardware inventory by 600%. Whether you need standoffs, spacers, thumbscrews, ball studs, panel nuts or shoulder bolts, we've got you covered.
Ben Lussier is vice president of Blue Ribbon Fastener.