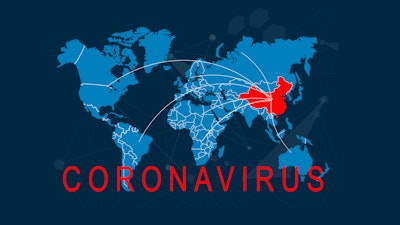 iStock
The ongoing coronavirus outbreak has been the lead story among virtually all major news outlets since about mid-January, and its impact on supply chain disruptions has been well-documented. Besides factory shutdowns and production halts across China, the virus' spread to countries including Korea, Italy and France — and now more than 100 confirmed cases and six deaths in the US as of Tuesday morning — has halted thousands of international and domestic flight routes and canceled international tradeshows and conferences. Along with those effects, efforts to stop the spread have resulted in a surge of demand for certain personal protective equipment — particularly face masks and gloves. Some of that demand is from regions currently battling an outbreak of the virus there, while other regions are stocking up on PPE in advance of it. Meanwhile, misinformation and misconceptions about the virus haven't helped, resulting in demand for PPE products that are either ineffective in protecting against COVID 19, or things like consumers unfoundedly linking the coronavirus with Corona beer.
The virus — of which there are more than 90,000 confirmed cases of and more than 3,100 deaths — has spread amidst the latest quarterly financial reporting period for publicly-traded companies. This means that in their quarterly earnings conference calls with business analysts, these companies' CEOs have felt pressure to address the impact of the virus on their business its supply chain.
And while these CEOs have tended to remain reserved in their comments about these impacts, they haven't shied away from them. Over the last three weeks, leaders of more than a handful of industrial distributors and suppliers have provided commentary about the coronavirus, either in those analyst calls or in other media coverage.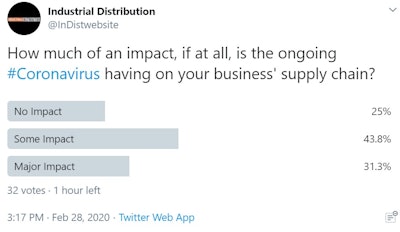 ID ran a Twitter poll from Friday afternoon through Tuesday asking our followers what impact, if any, the coronavirus has had on their business' supply chain operations. And even though the poll had a small sample size — 32 votes — it's enough to show there is indeed a considerable impact in the industrial supply space. Only 25 percent of respondents voted 'no impact', while 44 percent indicated 'some impact' and 31 percent indicated 'major impact'.
Below, find a collection of such industrial distributor and supplier commentary. This covers statements made since Feb. 14. I decided not to go back futher given the fluidity of the situation:
Michael DeCata, Lawson Products CEO, in company's Q4 earnings call on Feb. 27: "One other topic on everyone's mind is supply and customer impacts from the coronavirus. We have been in regular contact with suppliers and today, we have not experienced any shortages. Suppliers have also assured us that they have ample supply of our product on hand. We import approximately 12 percent of our products from China and very little of our maintenance engineered private-label products.
Having said that, we are monitoring the situation closely and should the need arise, we will purchase extra safety stock. Today, we have also not experienced any customer impacts associated with the situation. Last week, we hosted our sales leadership team in town for three days of training and planning. Our team is very optimistic about the state of the company and progress that we're making in the marketplace.
Mark Holifield, Home Depot executive VP of supply chain and product development, in company's Q4 earnings call on Feb. 25: "It does change every day. Our Q1 merchandise is already here or on the way and Q2 the picture is still developing there. For our direct import, our sourcing offices in Asia are in touch with our top factories as they are returning to operations. For our domestic vendors, we're working with them to understand and mitigate any potential impacts in their supply chains. Our teams are working with all of our suppliers, both domestic and import, and our logistics service providers on a PO-by-PO, container by container basis to understand what the impacts of our product flow are and they're taking appropriate action. We are encouraged that we're seeing factories come back to work. Provinces coming back to work in China, but it is a fluid situation and highly variable in terms of what's the current state."
Patrick Dempsey, Barnes Group CEO, in company's Q4 earnings call on Feb. 21: "Our primary concern relates to the safety and welfare of our associates in China and around the world. We have temporarily suspended all travel for our entire workforce in and out of China. And while our manufacturing facilities were closed for an extended period of time, they are slowly coming back online. At this point, we are monitoring the situation daily for new developments and any additional government mandates. At present, we see potential risk revenue -- potential revenue risk in the first quarter of $10 million to $15 million."
Nish Vartanian, MSA Safety CEO, in company's Q4 earnings call on Feb. 20: "First and foremost, our priority is the health and safety of our colleagues in China and at this point, we're not aware of any MSA employees contracting the virus. We're taking precautions and following the government guidelines to ensure that that continues to be the case. As we've discussed in the past, about 5% of MSA's revenue is in China, and we have a manufacturing plant in Suzhou. Our factory reopened at partial capacity after the government imposed extension of the Chinese New Year and Holiday. And we've been working to ramp-up production.Like many other companies, we have elements of our supply chain that are global, and we source certain components directly and indirectly from China. While we're comfortable with our inventory positions in the near-term, we're navigating through the unknowns about how this situation will evolve. We'll continue to assess the risk as we move through the first quarter.
We are actively monitoring the situation and in communication with our suppliers about their plan, as well as looking for alternative suppliers outside of China to help mitigate any potential impact if the Coronavirus impact extends longer term.
China represents about 5 percent of our business. And we expect to see some disruptions here in the first quarter and hopefully that'll be about it, we're ramping-up production as we speak but there has been some disruption obviously in our production here in the first quarter. And hopefully that short-lived and we'll be able to offset that as we go through the year."
Editor's Note: RTV6 reported Bemis said he's been told it could be at least four months to get the respirators he needs for his customers, and there is no guarantee that they would arrive in that time frame. RTV6 also reported that Haggard & Stocking president Jeff Haggard said he "hears a desperation in customers' voices when they call asking for face masks. Haggard: "We knew something was going to happen. We just didn't know it was going to be as bad as it is right now," Haggard told RTV6. "We are getting phone calls for 1 million piece orders. I wish I could supply, but I can't."
Brooke Bemis, Haggard & Stocking division manager, to RTV6 Indianapolis in a Feb. 27 report: ""We have had massive requests from all around the country for masks, but we can't fill any of the orders. We had to ration the couple-hundred cases we had in stock at the onset of the virus to our customers who we had contracts with."
Paul Donahue, Genuine Parts Company CEO, in Q4 earnings call on Feb. 19: "While this situation is very fluid, we thought it would be helpful to provide a few more details on our level of exposure to this — to the impacted region. From a topline perspective, we're not considering any sales weakness related to the outbreak as we do not have any sales exposure in China. We do however have exposure to affected areas throughout our supply chain including direct and indirect sourcing from China from North American Automotive, Australasia, and Business Products with only minimal impact in Industrial and European Automotive.
And while we are in good standing today and do not foresee any material product shortages based on the current situation, we are very aware of the potential for a worsening scenario and we remain in constant contact with our suppliers across the globe to plan for any disruption in supply should the virus continue beyond the near-term.It's an incredibly fluid situation. We've been on the phone only with all of our business unit heads talking about not really our own supply chain which I covered in my prepared comments, but also some of our good customers as well. I would tell you it's early. We have not felt any downward pressure on our numbers from our customers at this point, but I would tell you that we are staying incredibly close to it and will continue to monitor the situation."
Editor's Note: Genuine Parts Company is the parent company of Motion Industries — No. 4 on Industrial Distribution's Big 50 List.
Andrew Lane, MRC Global CEO, in company's Q4 earnings call on Feb. 14: "The full impact of the virus and how it will influence macro oil demand and global supply chain is still unknown. Our direct exposure is very low as sales in China were less than $3 million in 2019. We currently have only one employee based in China. From a supply chain perspective, we are currently well-positioned as we have approximately $350 million of valve inventory to meet the current demand. To date, we have not seen a significant disruption to our supply chain. However, as we source many of our commodity valves from China and China produces many valve components that are assembled in both Europe and the United States, a protracted restriction on the movement of people and product could cause delays in receiving inventory."