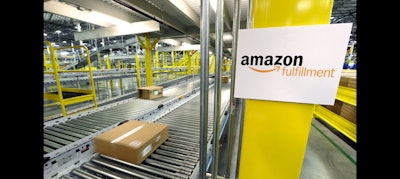 In its latest effort to establish a presence near major metropolitan areas, Amazon says it will build a huge fulfillment center in the Chicago suburbs, this time in Montee, IL. It is the third fulfillment center Amazon has built in the Chicago area in the last 18 months.
Amazon is on a torrid pace to build these centers across many states. It has already unveiled plans in recent months to build 15 of these centers, some of which will contain more than one-million-square feet of space.
The new facility in Monee will result in the creation of several hundred jobs. The fulfillment center will contain more than 850,000 square feet and is expected to be completed in late 2017.
Last October, Amazon opened a 500,000 square-foot fulfillment center in Joliet, IL. And just four months ago, Amazon said it would build an adjacent, but even larger, 700,000 square-foot fulfillment center in Joliet. Amazon also is opening a new fulfillment center in Romeoville, IL and is hiring more than 600 employees. The center is expected to be operational this fall.
In addition to the large distribution centers outside Chicago, Amazon also has leased smaller spaces on Goose Island and the South Side to make fast deliveries to homes in the city, according to news reports.
Amazon also plans to build two distribution centers in Edwardsville, IL, near St. Louis, bringing 1,000 new jobs. Each warehouse will have more than 700,000 square feet.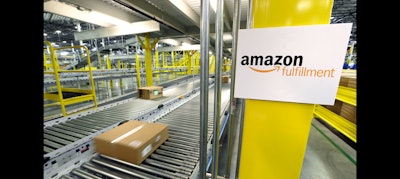 In April the Seattle-based company said it would expand in New Jersey by opening two new fulfillment centers, one in Florence, which will contain more than 800,000 square-feet and employ 1,500. The second facility will be located in Carteret, contain 600,000 square-feet, and employ 500. Amazon currently has another facility in Carteret. The new facilities "will bring more than 2,000 full-time jobs to the Garden State," the company said.
Akash Chauhan, Amazon's vice president of North America fulfillment operations, says the company places these fulfillment centers close to customers "to provide the fastest possible delivery times."
The online retail giant already operates three fulfillment centers in the state with more than 5,000 workers.
Amazon also has big plans for California. Two month ago the e-commerce giant said it will build an 855,000-square-foot fulfillment center at Metro Air Park near the Sacramento, CA International Airport. The facility is expected to open sometime next year.
Less than 16 months ago, Amazon announced plans to open a 1.1 million square-foot California fulfillment center in San Bernardino, where the company launched its first Golden State fulfillment center in 2012. Amazon plans to create more than 1,000 more full-time positions in the new San Bernardino facility. Outside of San Bernardino, Amazon's other Golden State fulfillment centers are located in Tracy, Patterson, Moreno Valley, Redlands and Rialto.
Amazon also recently said it would build a new fulfillment center in Braselton, GA. When opened, the company will create more than 500 new full-time jobs at the facility. Amazon currently has more than 1,500 full-time employees at its existing facilities in the state.
The Houston Chronicle also reports that Harris County Commissioner Court documents show Amazon plans to build a $136 million, 855,000-square-foot warehouse in the 970-acre Pinto Business Park.
And just recently, Amazon announced plans to build a massive, one million-square-foot fulfillment center in Coppell, TX. It will be the eighth fulfillment center in Texas and the second in Coppell. Hundreds of new positions will be created, Amazon said. Two other fulfillment facilities are under construction.
The fulfillment center expansion isn't confined to the U.S. Amazon intends to build more fulfillment centers in England, recently announcing that it will build two more fulfillment centers in Britain. The company will then have 13 facilities throughout the country.