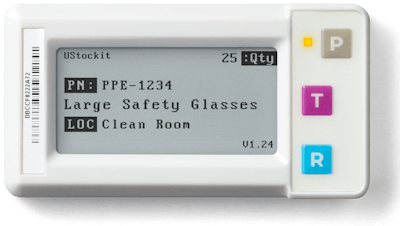 SupplyPro
SupplyPro has been in the business of high-tech inventory management for nearly three decades, with an objective to "track and control the boring stuff that makes the cool stuff."
After many years enhancing modular designs to make inventory management more efficient, SupplyPro now hopes to bring the concept of vending efficiency to customers of all sizes by sparing distributors the capital costs of the machines and offering them on a subscription basis instead. The new program, UStockit, was launched in August, and SupplyPro continues to fine tune its capabilities.
Industrial Distribution sat down with Floyd Miller, president and CEO of SupplyPro, for more on UStockit and how distributors can use the offering to their advantage.
ID: Waste has really been a long-standing problem in the industrial sector, especially relating to indirect materials. Tell us about how SupplyPro has set out to solve this problem.
Floyd Miller: People tend to stockpile stuff. It's kind of like putting extra pencils in your drawer so that you know when you need them, you've got them — making sure that there's resources available. What you typically see with vending is that it generally will reduce waste by about 30%, and the other consideration is the productivity being wasted.
When you have a situation where something isn't available when it needs to be, it can have a huge impact. Something small, like a welding tip, that might only be worth a couple bucks, could shut down a line that costs a hundred thousand dollars a minute. A big component of waste is about wasting productivity.
ID: Let's talk specifically about UStockit, your subscription-based offering. Why did you believe the industry needed a subscription-based service?
FM: In this market, inventory management has kind of shifted — from the end-customer deciding they wanted to control inventory and their suppliers, to forcing it upstream to the distributor. So, the distributors got stuck, if you will, with having to provide inventory management to be competitive in the market. And what that caused was the distributor to look carefully at a cost analysis in terms of what the ROI of providing a system might be, and selectively providing inventory control to only the customers that had sufficient flow through the machine to justify its cost and support.
The result is that vending migrated to the largest distributors and, even among the largest distributors, to their largest customers. That left the smaller customers relying on inefficient manual solutions, and the mid-sized customer without vending, because it was just too expensive for the distributor to provide it.
We realized that the market was really constricted and so we asked ourselves, "How can we provide the benefits of inventory control to everybody? How can we bring the price down?" These are pretty expensive systems. And one of the ways that we believe we could make vending more accessible is to offer inventory control solutions on a subscription basis. A subscription enables local and regional distributors to offer inventory systems to their customers for one all-inclusive, affordable, fixed monthly fee. This puts them in a better position to compete and win business. And then manage customers more profitably, with no surprises. UStockit solutions are easy to install, operate and manage without forcing the distributor to become a vending expert. The solutions are intuitive and customizable to different market segments; MRO, PPE, bench stock — just about any vendable SKU. And the beauty of UStockit versus a purchased system is that when you're done with it, you simply return it. You're not left warehousing a system with aging technology.
UStockit systems are designed to be modular, so they can be easily updated and reconfigured to keep them current. Longer term subscriptions have built-in technology refreshes included in the subscription. We determined that if we could give customers the most current technology available, for a fixed monthly fee – knowing a percentage of the equipment is going to be returned, reconfigured, updated and put back into the market again – we could offer subscriptions at a lower price point resulting in much broader access to inventory control.
There's another exciting product in the UStockit product line. We just launched the UStockit Inventory Shelf Tag. Think about a vending machine as a metal box with compartments, doors and latches that control inventory items. The steel, circuit boards, wiring, mechanical parts, power supply, etc., are expensive, and the physical system has capacity limitations. The idea behind Inventory Shelf Tags is a deconstructed vending machine. Imagine turning your entire warehouse into a vending machine without the physical restrictions of a traditional vending machine and at a fraction of the cost. The Inventory Shelf Tags take the concept of vending and expand it outside of the machine to items that might not make any sense to put in a machine... big things like motors and bulky items. And the low cost per SKU enables the benefits of vending to be extended to a much larger number of items.
The UStockit Inventory Shelf Tags are currently in beta, and another example of how we're expanding the market to the local and regional distributors.
ID: So, if you had a super small customer, what does that look like? What kind of an account is that?
FM: Of the 35,000 industrial distributors out there, only about 200 are $200 million and above that regularly provide vending to their customers. That leaves 34,800 distributors that are below that threshold, and these are all your regional and local distributors that are running mid-market America today. These are substantial companies, but they just don't have the resources that the huge distributors do. UStockit gives us a way to help these mid-market distributors compete with the big guys.
If you're competing for a piece of business and Grainger or Fastenal can come in and give your prospect a free machine, well, it tips the scale in their direction. However, being able to offer a low-cost subscription solution, that doesn't drain your resources, balances the scales, and gives the little guy the opportunity to be competitive. As smaller distributors are pressured to evaluate digital productivity tools to remain competitive, they recognize that adopting these technologies can be complex, expensive and disruptive to their business. Our goal is to make it easy for them and lower their risk. If they get technology wrong, it can be a disaster. But if they get it right, it can significantly accelerate their business and improve profitability and propel growth.
Big distributors are SupplyPro's bread and butter, but even those guys have customers that they can't justify providing vending to. So even for our big customers, it gives them an opportunity to push inventory control down into their customer base.
ID: What advice do you have for companies that are looking to modernize their inventory management processes? What kind of first steps do you think they should be taking?
FM: The age old saying, "Follow the money," applies. If you can understand the financial impact of your inventory on you and your customer's business, you will be off to a good start. Theft, inefficiency, stockouts, write-offs, obsolescence, labor, real estate, uses of capital, etc. are just some of the considerations – before you even start to think about technology. That's where I'd start.
It's not just putting products in a vending machine. It's really helping the overall manufacturing process become more efficient, getting products to customers as efficiently as possible, putting the right products at the point-of-use, getting the right controls in place to make sure tools are tracked and returned on time, and making sure that, whatever the application of technology, it's being done in a really smart way.