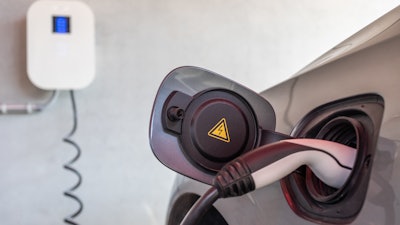 iStock
While there has been extensive debate about whether the economy is in a recession, or about to enter one, a number of positive steps in the manufacturing sector are creating an optimistic outlook for the months (and years) ahead. Specifically, several manufacturers have announced plans to expand their electric vehicle (EV) production as well as construct battery plants in several states.
But that is not the only good news. A number of companies continue to move some overseas manufacturing back to the U.S., creating thousands of jobs and hopefully alleviating supply chain problems.
In January, Bloomberg reported that a UBS survey of C-suite executives revealed the magnitude of this shift. More than 90% of those surveyed said they were either in the process of moving production out of China or had plans to do so. And about 80% said they were considering bringing some of it back to the U.S. or Mexico. A similar survey by ABB recorded similar findings.
Generac Holdings, for example, a maker of power generators, started mapping out plans to shift some production from China and when the pandemic hit, those plans accelerated.The company now gets more of its parts from suppliers in the U.S. and Mexico, produces more generators near its headquarters outside Milwaukee and runs a new plant north of Augusta, Georgia, according to Bloomberg.
In October, Schneider Electric and Deere & Co. said they will spend tens of millions of dollars to expand factories in Kentucky, Nebraska and Louisiana — with Deere's move shifting some manufacturing from China to the U.S.
Schneider will invest a total of $46 million at plants that manufacture circuit breakers and other electrical output products in Lexington, Kentucky, and Lincoln, Nebraska.
Re-shoring of manufacturing and billions of dollars in investments for electrical vehicle and battery production bode well for all types of distributors for the foreseeable future, whether it be construction, industrial or electrical. The growth and production of electric vehicles is expected to increase other business for electrical distributors. Already, a number of electrical distributors are advertising on their websites their abilities to install EV chargers at residences or commercial facilities.
Auto Expands
Global automakers are projected to spend more than $515 billion by 2030 to develop and build electric vehicles, according to London sustainability consulting firm ERM on behalf of the Environmental Defense Fund (EDF).
In the U.S. alone, 13 carmakers have announced plans to spend more than $75 billion to open electric vehicle manufacturing plants in six states.
Ford, for example, is budgeting a huge amount of money to expand its EV and battery production. The Dearborn, Michigan-based automaker said it would spend $5.6 billion on a new "mega campus" in western Tennessee for manufacturing electric cars. At the same time, the company said it would build a pair of battery factories in central Kentucky for $5.8 billion – in partnership with SK Innovation – to supply batteries for future Ford EVs.
Dubbed "Blue Oval City," the Tennessee campus will cover almost 6 square miles and include vehicle and battery assembly as well as a supplier park, Ford said. It will hire approximately 6,000 new workers and assemble electric trucks like Ford's electric F-150.
In central Kentucky, Ford's dedicated battery manufacturing complex – the BlueOval SK Battery Park – intends to create 5,000 jobs. Twin battery plants on the site hope to supply Ford's North American plants with locally built batteries for electric Ford and Lincoln vehicles.
In addition, German auto supplier Bosch will invest more than $200 million to build fuel cells for electric trucks in South Carolina.
Bosch plans to expand an existing factory in Anderson, South Carolina, to build the fuel cell "stacks" starting in 2026. The investment is expected to create at least 350 new jobs, the company said.
The fuel cells built by Bosch in South Carolina will be used to power electric heavy trucks, including forthcoming models from Arizona-based EV truck startup Nikola.
Bosch's North America president, Mike Mansuetti, said the company decided to invest in U.S. production to support "growing demand" from its automotive customers in North America.
"As our success in acquiring e-mobility business here in the region continues, it's critical that we have local production capabilities to support our local customers," Mansuetti said in a statement.
Suppliers Get in the Mix
Meanwhile, Lincoln Electric, a 127-year-old global manufacturer of welding equipment, intends to become a strong contender in manufacturing electric car chargers. The company will design and manufacture DC fast charge electric vehicle chargers for the U.S. EV market.
ABB also has announced a major expansion of EV charger manufacturing capacity in the U.S. ABB E-mobility's multi-million investment in new manufacturing operations in Columbia, South Carolina, will create more than 100 new jobs at a facility that will be capable of producing up to 10,000 chargers per year.
And Japanese company Envision AESC announced April 19 it plans to build a $2 billion "Gigafactory" in Bowling Green, Kentucky, to assemble battery cells for electric vehicles.
The factory will create an estimated 2,000 new jobs and supply Mercedes-Benz' new Alabama EV plant, among other manufacturers, according to company plans.
Hyundai's Multibillion-Dollar Goals
Hyundai aims to gain additional market share with a $5.5 billion plan to produce electric vehicles and batteries at a facility on 2,923 acres in Georgia. Hyundai estimates this will create approximately 8,100 jobs.
Hyundai hopes to have the plant online in the first half of 2025 with groundbreaking in early 2023. The facility is estimated to eventually produce some 300,000 units per year, just 40,000 shy of sister company Kia's output at its own factory in Georgia.
The automaker did not say which models will be built in Georgia, just that it hopes to produce a "wide range of fully electric vehicles."
A Global Battery Boost
Battery manufacturing is sure to mean jobs. McKinsey & Company estimates that the market for battery cells will grow, on average, by more than 20% per year until 2030, reaching $360 billion globally. There is also a "realistic scenario" in which the market hits $410 billion by 2030.
The good news for distributors is these plants will need products to keep their facilities up and running. Distributors and automotive suppliers should examine their products and services and decide which changes, if any, should be made to their product mix.
Suppliers could also move warehouse operations near automakers' production facilities in adjacent "supplier parks." Automakers like GM and Ford say this trend reduces transportation costs, enhances communication and benefits what they call "continuous improvement activities."
As the race to produce electric vehicle, batteries and chargers heats up, China holds a huge advantage.
China recorded total sales of 1.3 million electric vehicles last year, more than 40% of sales worldwide. Chinese battery-maker CATL alone controls about 30% of the world's EV battery market.
China produced 44% of the world's EVs in the last decade and around 80% of all lithium-ion batteries. And it is investing heavily to keep its leadership role. CATL intends to build a $7.6 billion battery plant in Hungary, Europe's largest so far, in order to meet growing demand from global automakers.
CATL said construction of the plant in the eastern city of Debrecen, its biggest overseas investment, would start this year after receiving approvals and should take no more than 64 months to complete.
The worldwide competition for EVs and battery production is only going to increase in the years ahead. Will the U.S. be able to compete? Only time will tell.
Jack Keough is the president of Keough Business Communications and the former editor of Industrial Distribution. He can be reached at john.keough@comcast.net.