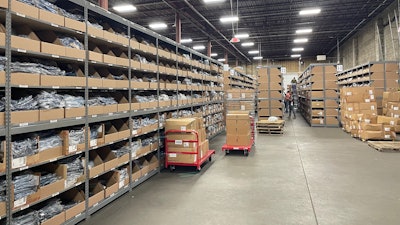 Fillogic
Supply chain issues continue to consume the U.S., but while many struggle to adapt, a relatively new company is finding original approaches in manufacturing and distribution.
Bill Thayer and Rob Caucci founded Fillogic in 2018. Described as a provider of localized logistics and a logistics-as-a-service platform for retail, Fillogic takes underutilized spaces in retail centers, primarily shopping malls, and converts them into tech-enabled micro-distribution hubs.
The company employs just under 100 people. However, according to Thayer, who also serves as CEO, the company grew approximately 9,000% in the past year.
The idea for a service like Fillogic formed long before the coronavirus pandemic.
"One of the things that I noticed in the last 10 years, physical retail is being poorly served logistically," Thayer said. "Mall owners build beautiful facilities, but they don't operate and provide any logistics capacity. With retailers, their stores are never built to operate like fulfillment locations. On the transportation provider, peer-to-peer or person-to-person delivery is not cost-effective."
Fillogic tends to the needs of all mall owners, retailers and transportation providers through an aggregated B2B logistics and technology platform. It uses existing infrastructure to operate and provide logistics and technology solutions to increase efficiency and make last-mile delivery more cost-effective.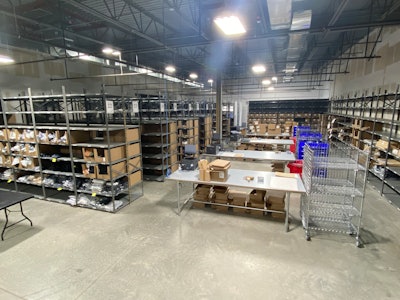 Thayer identified lack of capacity as the biggest issue in supply chain struggles. He said the pandemic started unprecedented demand and now there are simply not enough people, boats, planes, trucks and buildings to handle it.
"We're adding additional capacity," Thayer said. "Taking a shopping mall and providing a commercial-grade logistics component means that we are adding processing and handling capacity for a much lower cost and much more efficiently. So we are helping remove some of the blockages in the supply chain."
Fillogic sizes a location based on demand and primarily targets shopping malls because that's where the retailers are. However, Thayer stressed the space does not need to be contiguous and the main point of the transformations is to build a network by using the malls as the jumping-off point.
Fillogic could use alternative types of industrial real estate, but only if it grows the network the company hopes to build. The company does not want to compete with traditional industrial real estate due to the high costs.
"If we do it right, nobody really knows that we're there," Thayer said. "So think about a storage location. That's got a door on it. Before us, there was a ton of miscellaneous inventory being stuck in that location. After us, it is racked, it has shelving, it has a network infrastructure. Our employees are traveling through the back hallways of these mall locations being able to either do e-commerce fulfillment or store-based fulfillment. We are pretty good at being anonymous."
According to Thayer, market challenges and the market risks for cost labor impact Fillogic. But he added that since the company operates in a "middle mile where everybody lives and transacts," the issues that larger retail or logistics operations face are not as problematic.
Fillogic grew 9,000% in 2021, and Thayer expects exponential growth in 2022.
"[Mall owners] are the folks that will continue to have our backs and work with us," Thayer said. "But at the same time, our retail customers can understand it's easier to scale with the Fillogic folks because [we're] continuing to add new solutions."