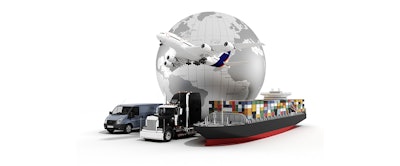 Technology has empowered supply chain practitioners to better understand the mechanics of logistics, across geographies and modes. Now more than ever, the promise of an automated, fully-digitized supply chain stands to deliver significant benefits.
With this promise hanging in the balance, manufacturers, retailers and other shippers will understandably have high expectations for the year ahead. In order to take full advantage of the advancements 2019 may have in store, companies need to prepare for the good and the bad. Despite inevitable challenges like the driver shortage, supply chains can maximize opportunities and provide real-time orchestration by anticipating the following trends and planning accordingly.
Capacity Crunch
Over the last decade, trucking capacity has continued to tighten, making it increasingly difficult for shippers to find trucks to transport their bulk products. In 2019, many ocean carriers will be forced to sit longer at port waiting for trucks to pick up the cargo, which will prompt some to impose emergency intermodal fees or stop door delivery in response. By embracing advanced technologies, trucking organizations will become poised to move from automation to orchestration as 2019 progresses. By using predictive analytics, organizations can begin planning for supply and demand and better their execution. Challenges like the driver shortage will be inevitable — but the right technology can help maximize opportunities, reduce empty miles, and provide real-time orchestration to contribute to a happy and successful new year.
Digital Culture as a Competitive Advantage
Predictive analytics will become highly useful to optimize resources within the supply chain in 2019. In late 2018, Gartner identified eight strategic technology trends for the supply chain and how they can provide a competitive advantage. Combined with AI and machine learning, data is the driver for predictive capabilities — with it, future performance can be optimized based on historical results. This data is powerful and has the potential to positively impact every aspect of the supply chain, from sourcing and compliance to production and quality control. Embracing the value of technologies such as predictive analytics is essential for a strong foundation, upon which to build a digital supply chain.
Tariffs and Global Supply Chain Networks
In 2019 the most agile and resilient supply chains are the ones that are going to be the most successful. Natural disasters, economic flux, and rising tariffs are going to remain a concern for the supply chain industry and therefore the C-suite may reconsider its current manufacturing strategies and its global operations. To help inform these decisions, companies should combine external and internal data. Predictive analytics uses historical data and machine learning to identify and anticipate certain outcomes that become increasingly valuable as the volume of data increases. When properly analyzed, this data is helpful for identifying patterns and areas for optimization, to fuel better planning and resource utilization.
Uberization of Freight
In 2019, new platforms will power increasingly-connected truckers and LTL providers into the gig economy. As technology advances, we can expect business models to evolve, which has the potential to drastically disrupt the trucking industry in 2019. Technology will help reduce the amount of empty miles driven, and with that the number of drivers needed. Fewer trucks on the road lead to less of an impact on the environment. In addition, movement of freight becomes more like a marketplace, a real-time part of the supply chain, much like Uber has become for consumers, by providing real-time inventory orchestration and allocation for inventory in motion and at rest.
AI's Supply Chain Moment
In 2019 AI and machine learning will become more integrated with every aspect of the supply chain. This integration will enable automating repetitive tasks and bringing intelligence to supply chain networks and systems. Artificial intelligence and machine learning are both required to get the most out of Natural Language Processing. The complexity of human language requires smart algorithms and self-teaching systems to parse and understand language input and provide appropriate responses and actions. NLP provides many benefits to the supply chain including understanding and mitigating potential risks with supply chain stakeholders, ensuring compliance, monitoring reputations of supply chain organizations, and reducing language barriers.
A supply chain is an incredibly complex web of organizations, activities, information and resources designed to source, produce and move goods from origination to a final destination. As such, we can always expect new challenges, but we can also anticipate new and exciting developments that offer solutions. Taking steps to prepare for these disruptions now will ensure better performance tomorrow.
Pervinder Johar is the CEO of Blume Global.