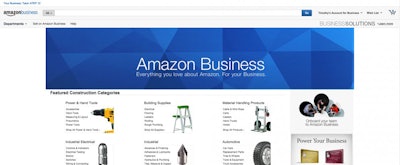 Amazon! The largest internet based retailer in the world by total sales and market capitalization. This company has brought consumers millions of products from books to clothes, electronics, home goods, and much, much more. And, in 2015 Amazon launched Amazon Business catering to the businesses — a marketplace featuring millions of products, bulk discounts, and even free two-day shipping on orders over $49. While on the surface, Amazon Business seems to be a convenient solution for purchasers, particularly in the MRO (Maintenance, Repair and Operations) who often deal with unplanned, one-off purchases known as spot-buys, there are still many questions to be answered surrounding the marketplace.
For Amazon Business to truly meet the fundamental needs of MRO buyers, the marketplace will need to prove itself from both a product availability and cost perspective. In terms of a selection, Amazon Business must have an extensive line card but also offer products that meet certain specifications. When it comes to the MRO category, buyers often require products with detailed specs and as a result tend to stick to Original Equipment Manufacturers (OEMS). For Amazon Business to really compete, this means they must form partnerships with OEMs. While Amazon seemingly hasn't had trouble forming relationships with brand names in the past – just look at what they're doing with their Dash Buttons, it may be more difficult than expected as some of these OEMs have specified distribution networks with authorized distributor channels.
Additionally, buyers and procurement teams are concerned about price and are typically looking for competitive price discounts especially on high volume recurring purchases. Sometimes these price discounts can only be achieved through contracting and negotiating category discounts and customer specific pricing. As for what that means for Amazon Business, they will need to prove themselves a worthy competitor in comparison to contracted product pricing companies may already have negotiated based on purchase volume with other suppliers.

But, let's say that Amazon Business has met these first two criteria, MRO purchases are often crucial to the operation of the business. Beyond pricing and product availability, Amazon Business needs to be able to meet appropriate lead times and not crush businesses on freight and handling charges. Lastly, service is a major component that might prove to be very troublesome for Amazon Business to overcome. Buyers have specific product questions that require expert service, and although Amazon Business has a feature that allows buyers the ability to chat or email the manufacturer, it is not the same as working directly with someone who has that expertise.
Categories such as janitorial or office supplies might gain traction to business buyers due to the fact that there is a limited service offering expected. So, can Amazon Business really compete with MRO, IT and office products suppliers such as Grainger, Dell and Staples, respectively? Let's take a look…
Account Management
With more than 2 million sellers, Amazon Business offers more than 5 million products from janitorial supplies to IT products, making the marketplace ideal for companies looking for an all-encompassing supplier for a variety of categories. The challenge for many companies (particularly large companies) however, is that purchasing is often decentralized. Meaning, the buyer of janitorial supplies is often different than the buyer of industrial and safety supplies. As a result, buyers from various business units may form individual, redundant relationships with these suppliers without establishing a national account or contract. This becomes a major challenge when trying to gain spend visibility and understand category-specific opportunities.
Amazon Business is alleviating this problem by ensuring that your business has one account, but multiple users through the abilities to create multi-user accounts, connecting team members, creating purchasing groups, and allowing users to share payment methods. If a large corporation is going to utilize Amazon Business, they do not want buyers creating accounts with multiple variations of company names such as Paper Company, Paper Co., The Paper Company, etc. in which there would not be a consolidated account — allowing businesses to track and monitor spending with Amazon Business a company-wide level.
Price
How can Amazon Business really beat pricing established with suppliers through contract negotiations? There are a couple different ways that Amazon Business is structured to offer competitive pricing: business-only prices, quantity pricing, and by comparing offers. This is all great, but what if you have a competitively negotiated contract in which the contracted supplier will price match. How can Amazon Business compete?
Now, I'm not sure that Amazon Business will be as competitive here as a price matching contract, however, with the 2 million sellers on Amazon Business, buyers are able to go to the product page and see different offers. Multiple suppliers are therefore competing in real time for their business. Think of it like a reverse auction, since sellers are able to dictate their pricing online, they can see what other vendors are selling their products at and in order to win the business, they can reduce pricing in real-time.
But what about taxes and freight and handling charges that affect the price? Just like when purchasing with a supplier, Amazon Business also allows your organization to enroll in Amazon's Tax Exemption Program if eligible. Now freight and handling, this is often something negotiated through a contract, and something larger businesses get voided from their contracts due to the high volume of purchases and spend. One such way Amazon Business is working to eliminate freight and handling fees is by offering free two-day shipping. This applies on eligible orders of $49 or more and on more than 50 million eligible items. Product shipments are then fulfilled by Amazon.
Shipments
Many buyers in large corporations establish either blanket POs or submit weekly POs with their incumbent suppliers specifying the products to be purchased, the quantities, the price, and the delivery date. These buyers are therefore able to manage their inventory and maintain operating efficiency because of appropriate forecasting and the guarantee that the products will be delivered on time for a pre-specified price. Just like with Amazon, Amazon Business is extending Prime shipping benefits to a user's new Amazon Business user account, which means that there is a two-day shipping guarantee from ship date.
However, there is a small caveat here — Prime is for individual use. So, if one Amazon Business user purchases or has a Prime account they will receive the benefits, but those benefits do not transfer to all individuals on the company's Amazon Business account unless they get their own membership. Lead times are critical to businesses and while Prime may alleviate some of the ordering and shipping stress for buyers, there are still likely to be some headaches and problems such as if other individuals need to make a quick purchase but do not have an Amazon Prime account.
So, it looks like Amazon Business has begun thinking about the needs and requirements of businesses, but there are certainly other aspects of business operations and purchasing requirements that Amazon Business has not fully developed yet. We'll explore those missing considerations in the second half of this two-part series.
Nicole Mahaffey is a Senior Project Analyst at Source One Management Services, LLC. In her role, Nicole is adept in executing strategic sourcing initiatives; conducting comprehensive research, vetting suppliers, and developing RFPs with great attention to detail. She is a proven asset in providing detailed financial analysis and creative solutions for client cost savings.