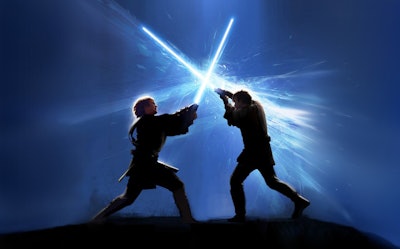 Today's logistics galaxy is increasingly complex, with new players, methods of transportation, and challenges cropping up daily. If companies are not careful they can fall behind and succumb to the dark force of not being prepared to manage each step of the way – from procurement to manufacturing to distribution.
Luckily, a new Jedi of the supply chain is emerging – the supply chain manager. Read on to learn how supply chain managers can help businesses make sure they are not falling victim to the Darth Vaders that lurk within today's manufacturing industry.
Supply Chain Jedi Have Increased Visibility
The supply chain is drastically increasing in complexity. Contributing factors include changing consumer expectations around the speed of shipment and delivery, new shipping technologies and an increased focus on e-commerce. Supply chain Jedi know that the best way to tackle this complexity is through increased visibility. The simplest way to boost this visibility is with a transportation management system (TMS) that provide a holistic, end-to-end view of the supply chain – and is capable of highlighting the most business-critical trouble areas.
TMS technology enables the management of various forms of transportation – rail, sea, road and air – and connects a business with multiple carriers. If there are any potential delays or problems with a shipment due to extreme weather, problems with the carrier, etc., the supply chain manager will be alerted beforehand and can take steps to mitigate the issue, including switching the shipment to a another connected carrier. This ensures that the dark forces that have the potential to corrupt normal shipment processes and hurt the end customer are defeated before they can wreak havoc on the supply chain.
Supply chain Jedi also extend visibility into every aspect of the business to ensure that individual operating silos are broken down. This creates increased coherence in the supply chain, as having all of your teams on the same page helps protect your business against disorganization and duplicated work.
Staying Ahead of Upcoming Regulations and Compliance Issues
New regulations and mandatory compliance changes are making navigation of the supply chain galaxy much more complicated than before. These include the U.S. Customs and Border Protection's upcoming deadline for the Automated Commercial Environment [ACE], new shipping container weight regulations and solutions for port and road congestion relief. True supply chain Jedi recognize the importance of software and TMS solutions to ensure they are aware of each individual regulation and the deadlines for transferring data or moving to an automated system.
Jedi Choose the Right Software
With all of the software options out there, it is important that companies choose the right one for their specific needs. A true Jedi supply chain manager knows that not all solutions are created equal, and that different companies need different solutions. Before buying logistics software, wise supply chain managers should evaluate:
The problems they are trying to solve.
Their current and future transportation needs.
The partners they commonly work with.
Whatever integration capabilities they require, including yard management, cargo, freight, storage, break bulk, etc.
Outlining these prior to choosing a specific solution will ensure the technology is tailored for your company's individual needs, ensuring a successful implementation and deployment.
In today's supply chain galaxy, the supply chain manager is the Jedi tasked with holding everything together. Implementing a TMS system allows them to properly track all of the moving parts and gives them the tools to benefit their business.
Larry is Industry specialist for parcel shipping, with responsibility for Kewill's analytics and spend management products and services. He has 15+ years experience in the software and high-tech industries. Prior to Kewill he was co-founder, CTO and COO of PointandShip Software where he led the design and development teams for their Shipping Expense Management software.