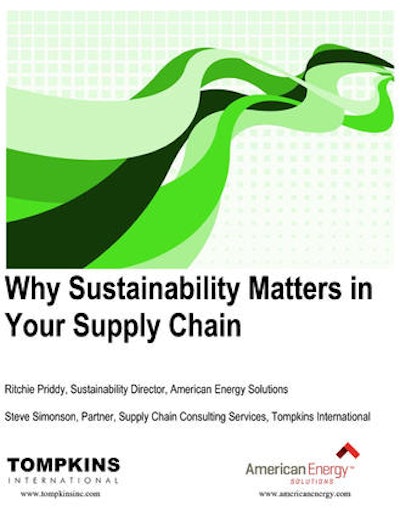 Experts Release Paper to Guide Companies in New Phase of Sustainability, Energy Efficiency
RALEIGH, NC, and LEAWOOD, KS, July 31, 2012 — Companies that are ahead of the sustainability curve are writing the rules, cutting supply chain costs, avoiding risks, and winning public relations battles.
An important new paper, Why Sustainability Matters in Your Supply Chain, was written by Tompkins International and American Energy Solutions to provide a joint energy and supply chain perspective. This resource better defines sustainability, its drivers, supply chain implications, and future direction.
"Regardless of the political and regulatory environment, the push toward sustainability is not going away," says Ritchie Priddy, Sustainability Director at American Energy Solutions and co-author of the paper. "In fact, sustainability is entering a new phase that promises a broad impact on supply chains. It covers the entire organization on the demand side as well as the supply side."
Effectively managing energy risks is the essence of sustainability. The paper notes that supply chain disclosure is rapidly becoming the most adopted measure around the world.
"Most companies have come to realize that the great majority of their emissions are not from their own operations, but rather from their suppliers' operations," Priddy adds.
And there are real benefits to applying sustainable practices and being a good corporate citizen. Energy efficiency upgrades are the single most effective way to lower emissions, with side benefits including lower costs, better competitive positioning, and positive public relations. Efficiency is sustainability.
But are there really profit opportunities for organizations in sustainability? "Yes, from a supply chain perspective, reducing emissions almost always translates into lower costs," says co-author Steve Simonson, Partner in Supply Chain Consulting, Tompkins International. "Optimizing distribution networks can reduce your carbon footprint and transportation costs at the same time – all leading to great profits and a competitive edge in the end."
To learn more about the key drivers of supply chain sustainability, as well as how to succeed in this new phase, download the paper at http://www.tompkinsinc.com/white-paper/2012/why-sustainability-matters-your-supply-chain/.
About Tompkins International
Tompkins International transforms supply chains to help create value for all organizations. For more than 35 years, Tompkins has provided end-to-end solutions on a global scale, helping clients align business and supply chain strategies through operations planning, design and implementation. The company delivers leading-edge business and supply chain solutions by optimizing the Mega Processes of PLAN-BUY-MAKE-MOVE-STORE-SELL. Tompkins supports clients in achieving profitable growth in all areas of global supply chain and market growth strategy, organization, operations, process improvement, technology implementation, material handling integration, and benchmarking and best practices. Headquartered in Raleigh, NC, USA, Tompkins has offices throughout North America and in Europe and Asia. For more information, visit www.tompkinsinc.com.
CONTACT: Keri McManus, kmcmanus@tompkinsinc.com
About American Energy Solutions
Founded in 1996, American Energy was structured to address the needs of commercial consumers interested in aligning energy management strategies with their long-term business goals. Using a proven comprehensive, step-wise approach, from current-state benchmarking to turnkey implementation, American Energy offers custom solutions for national clients in a wide variety of industries. The American Energy team, headquartered in Leawood, Kansas, possesses more than 150 years of combined expert energy industry experience. To learn more, visit www.americanenergy.com, call 913-433-7800 or send an email inquiry.
CONTACT: Brian Roth, broth@americanenergy.com