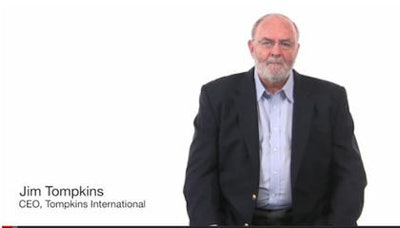 Top Executives Talk Real-Time Supply Chain Strategies & Customer Focus
Raleigh, NC — A new executive video by Tompkins International and One Network Enterprises explores why businesses should embrace new demand-driven strategies.
"Companies are looking for realistic ways to reduce uncertainty in forecasting demand while exceeding customer expectations," says Jim Tompkins, CEO of Tompkins International. "Demand driven is the optimal way to integrate all links of your supply chain for real-time knowledge on customer demand."
Demand-driven supply chains have positive impacts on top and bottom lines. They create greater customer satisfaction, which leads to a more superior customer experience and ultimately results in more revenue.
"Demand-driven means having a keen focus on the end consumer in today's marketplace," says Greg Brady, CEO of One Network Enterprises. "Whether we are talking about a store or a website, it allows you to move beyond the 'four walls,' react quickly to changing demand signals, and execute to demand throughout the day."
What makes it the "new" demand-driven? The customer pulls product through the supply chain, leading organizations to focus on the customer while ensuring efficiency of other components in the supply chain such as throughput, asset utilization, or logistics.
The experts also address:
How certain strategies and tools reduce the uncertainties of forecasting demand and help mitigate the risks
How to increase customer satisfaction, handle demand volatility and create value
How to eliminate physical lead times and lower supply chain costs
How new solutions best meet the serious challenges of e-commerce
Why a Cloud-based single platform for your company and its trading partners will benefit your business
For more on this dynamic discussion about demand-driven strategies and operations, and how to focus on what consumers are actually buying, watch the video, The NEW Demand-Driven Operations.
About Tompkins International
Tompkins International transforms supply chains to help create value for all organizations. For more than 35 years, Tompkins has provided end-to-end solutions on a global scale, helping clients align business and supply chain strategies through operations planning, design and implementation. The company delivers leading-edge business and supply chain solutions by optimizing the Mega Processes of PLAN-BUY-MAKE-MOVE-STORE-SELL. Tompkins supports clients in achieving profitable growth in all areas of global supply chain and market growth strategy, organization, operations, process improvement, technology implementation, material handling integration, and benchmarking and best practices. Headquartered in Raleigh, NC, USA, Tompkins has offices throughout North America and in Europe and Asia. For more information, visit www.tompkinsinc.com.
About One Network Enterprises
More than 30,000 companies are already connected to the RTVN for demand driven services that have repeatedly proven to lower inventories and operational costs, improve service, and increase profitability—Kroger, Lockheed Martin, Imperial Logistics, the US Department of Defense, Del Monte Foods, the US Marine Corp, and many others—are becoming demand driven with One Network's RTVN. Headquartered in Dallas, Texas, One Network also has offices in Europe and India. For more information, please visit www.onenetwork.com.