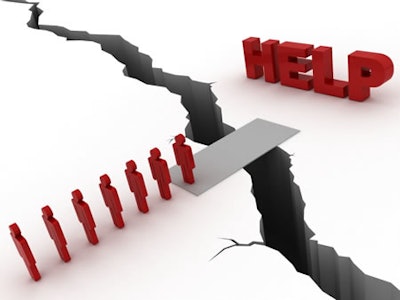 Industrial Distribution recently spoke with Andy Berry, VP and GM of Distribution for Infor, on how distributors can be as prepared as possible for events like Hurricane Sandy that interrupt the supply chain on a large scale. He shared four critical areas in which planning was necessary to ensure a strong business continuity effort in the aftermath of a catastrophic event.
---
Four key areas for a successful disaster recovery plan:
Having visibility across your own network is critical.
Having committed to predetermined processes and to training your employees in the event of a disaster is critical.
Social technologies, like Infor social and ION technologies, that allow you to broadcast in a Facebook like capacity to your customers and suppliers are critical.
More integration and tighter integration back into your suppliers and their inventories is critical.
ID: How do you prepare for something as big as Hurricane Sandy?
Berry: That is not an easy answer. There are a lot of different things that come into play with our customers, the first one being their size. You know the wholesale distribution marketplace: they are on pretty thin margins. While it is great to have, in theory, these wonderful disaster recovery (DR) plans, those cost money. Oftentimes, they cost a lot of money, and many of our smaller wholesale companies just don't have the margins to support that. What we find in the lower end of the market is that best case scenario, a company will have an offsite disaster recovery environment, and worst case, they will have nothing in place. They will just operate on paper for as long as they can once a disaster does strike. Their disaster plan is to operate on paper.
As you start getting into the midsize market and the top end, the finances change and the DR environments become much different. On the top end, companies have a bunker and an alternative environment and a documented strategy on what to do. A lot of that relies on having flexibility in their systems to have visibility across their different branch operations; to be able to have warehouse transfers into affected and effective areas. For inventory that you own, the ability to be able to move that and get it out of harm's way or to where it is needed once the disaster is over, that is the quickest disaster plan. With corporations boasting more than 200 branches, they are looking at how quickly they can have visibility of products across all their branches, to understand the demand of the branches on that level of inventory, and the ability to quickly reposition that inventory back into affected areas. That is plan number one: to have a fail-safe environment and to effectively have visibility across the network to transfer products into affected areas.
And then secondary to that is having visibility deeper in the supply chain. I don't think many people really have that, because what that requires is that each of your suppliers grants you visibility throughout their inventory and throughout their supply chain. If you are a manufacturer and have a lot of control over your operations and have a lot of visibility, then that is great. If you are a wholesale distributor, you rarely have that type of flexibility or look back into your supply chain. It sounds great on paper, in theory, but the practicality of our current environment just doesn't support that kind of depth in the supply chain, yet.
It sounds great, and it will be wonderful if the world had visibility across multiple systems someday, and we are starting to see that here and there. Even in the wholesale distribution marketplace, Infor runs the ERP systems of a lot of the big suppliers, the big manufacturers as well, so they have the possibility to be integrated. We are looking at ways, and are in talks right now through our ION technology, to say "Ok – at least lets integrate everyone that is on a common system with one supplier on Infor so that if you need to view more of the supply chain, it is possible."
There are also social solutions that can be tapped into in the event of a disaster like Hurricane Sandy. These are web-based, think of it as Facebook for your organization, as well as your extended organization. These social solutions provide you a means to communicate, not necessarily to have full visibility to inventories across the chain, but at least the ability to communicate with your suppliers in an immediate and open fashion so that you create those conversations through a predefined mechanism and help facilitate some DR shipments early on in the aftermath. Step one of this social initiative is open communication with your suppliers, and we are starting to see that with some of our own suppliers with our technologies.
Step two is having full visibility to your suppliers, such as inventory positions, as well as your competitors inventory positions across a region. We are probably some years off from that scope of visibility, but we are starting to see it open up. If I am a big northeast wholesale distributor and I am distributing pipe for a supplier, if that supplier is impacted by a disaster, it is immensely helpful if for a brief period of time I can get access to inventories from other pipe suppliers outside of me and my normal supplier's usual territories. If I have visibility into a supplier's stockpile who is not impacted by the disaster, and be able to work with my competitors from a different market to move that inventory back in to my market, I can be more successful in the face of disaster.
Those are more directional avenues right now, they are definitely not happening quite yet. But, if we can get better visibility to inventory stocking levels through a variety of technologies, I think that is a much safer disaster recovery environment than having full supply chain visibility through your own suppliers and only your own suppliers.
ID: You mention that having those open lines of communication with your suppliers is a really big deal, whether through Facebook or Twitter or whatever other means of technology. How then do you notify your actual customers of supply chain interruptions? How much is too much information and how soon would you get that info out there for them?
Berry: How do you get it out there? For example, with Hurricane Sandy, how do you tell your customers when none of them have power? That's why I try to stay away from theory. It would be wonderful if everyone had access when they needed it, but the important thing is that ¾ of the people were out of power and often out of touch, so how do you communicate with a customer base? I don't think we have a great answer for that yet.
Infor Social is a web-based environment that integrates with Facebook, etc. and it give you the best ability to communicate with your customers. You can tell them what kind of inventory you have in real time if your systems are up, but that depends on your customer's having visibility. What is more likely is that customers will just show up to your branch and expect you to be there operating on paper or operating on a limited system. You will need to have an internal system in place to be able to get them the information that they need. That social environment will be crucial in providing as many channels as you can to get the information out there. No solution is going to be perfect.
ID: In speaking of the supply chain during disasters, how can you prepare your employees to handle situations like this ahead of time?
Berry: That's a great topic because there is a lot that you can do there, and the first way to do it is to have your employees on a common system. This way, if they have to drop into another branch, you can operate your business with fewer hiccups. Cross train them on a common system and common environment so that someone in purchasing can jump over into sales when necessary, and vice versa. Having those employees documented, and spaced across branches, allows you to use your staff most effectively. We offer a lot of online training, such as process based training solutions, and we see many of our customers looking to adopt that – even very simply, to assist if an employee is out sick. Having a documented process and an online environment where adaptation is easy is very important. This can then translate into a larger disaster recovery environment where one branch is completely out of service and others have to pick up the extra business. Sometimes, employees can't even make it into their workplaces even if the branch is completely operable, so having employees from other branches cross trained and able to fill the gaps is extremely important. This cross training is even useful outside of a disaster. People are investing in it because they see immediate results on top of disaster training. The margins are just so tight in distribution that they can't allocate a million here or there for a contingency plan, but spending some additional money for additional training for key employees is feasible. Companies really need to be more nimble on their feet and adapt as things come, and this is a great opportunity to do that.