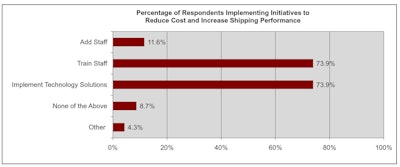 Report Shares Trends and Practices for Global Trade Management
Raleigh, NC — Technology solutions and staff training top the list of initiatives that companies are using today to improve global shipping performance and reduce costs, according to the Global Trade Management Report.
"Nearly three-quarters of companies are implementing technology solutions in addition to ensuring that their staffs are well-trained," says Bruce Tompkins, Executive Director of the Tompkins Supply Chain Consortium and author of the report. "About 12% report that they are also adding staff. It may not seem like a large number, but when compared to overall national hiring numbers, it is fairly significant."
The survey-based report unveils the practices of 80 companies across all major industry segments in the area of supply chain global trade management (GTM). Approximately 50% of the respondents are from manufacturing, 40% are from retail and distributor organizations, and 10% are logistics service providers.
"These companies are doing a great job measuring operations performance internally, as well as with outside partners," Tompkins adds. "More than 80% of respondents have key performance indicators in place to drive continuous supply chain improvement."
Among other findings, the report also shows that only 42% of respondents take advantage of international trade agreements and economic programs. At the same time, communication with global trade authorities is primarily done through brokers and freight forwarders.
For more information on GTM, download the report at: http://www.tompkinsinc.com/bbp-report/2012/global-trade-management-report/
Tompkins Supply Chain Consortium is the premier source for supply chain benchmarking and best practices knowledge. With more than 350 participating retail, manufacturing and wholesale/distribution companies, the Consortium sponsors a comprehensive repository of over 10,000 data points complemented by search capabilities, online analysis tools, topic forums and peer networking for supply chain executives and practitioners. The Consortium is led by the needs of its membership and an Advisory Board that includes executives from Domino's Pizza, GlaxoSmithKline, Hallmark, Ingram Micro, Kane is Able, Miller-Coors, The Coca-Cola Company, Target and University of Wisconsin. To learn more about how your company can become a member of the Supply Chain Consortium, contact John Foley, 919-855-5461 or visit www.supplychainconsortium.com