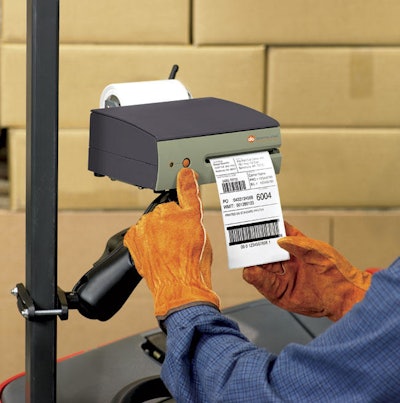 Since its founding in 1953, Wesco Aircraft, Valencia, CA, has grown into a leading distributor and provider of supply-chain management solutions for the global aerospace industry. As such, Wesco has developed product and service solutions that are designed to meet the diverse demands of a customer base that covers more than 8,500 businesses in the commercial aerospace, defense aerospace and ground vehicle, industrial, and maintenance, repair and operations (MRO) markets.
To satisfy the demands of such a large, worldwide customer base, Wesco has a global inventory of more than 575,000 stock-keeping units (SKUs), including SKUs relating to hardware, bearings, fluid fittings, electromechanical and interconnect products, machined and fabricated parts, and installation tooling. The challenge, then, for Wesco is identifying and incorporating the most reliable and efficient printing equipment for its picking, packing, and labeling applications — especially at its headquarters warehouse in Valencia. Over the years, it was a challenge that Wesco was finding harder and harder to overcome.
Forklift Printer and Selection Process
"The main challenges in these applications are finding printers that will take the beating of being on a picker (forklift) all day without having to send them out for service constantly," explained Sid Schreiber, Warehouse Operations Manager for Wesco Aircraft. "We also have to find a printer that will print labels that meet all of our customers' requirements. We have had many issues with the printers we have used."
Rather than continue to battle with underperforming printing equipment, in September 2012, Wesco began the search for a better printing solution. For assistance, the company turned to ADC Technologies Group, Inc., Irvine, CA, a value-added software-system integrator and reseller of automatic data capture and point-of-sale technology for use in manufacturing, warehousing, distribution and retail applications.
As luck would have it, Datamax-O'Neil, Orlando, FL, a globally recognized manufacturer of stationary and portable label- and receipt-printing solutions, was preparing to release a new portable-printer model to the market — the MP Compact4 Mark II.
"We saw that Datamax-O'Neil was coming out with a new printer with a simple, elegant design that securely attaches on the forklift," recalled Tom Good, System Sales Consultant for ADC Technologies. "They had sent us one, so we said, 'Hey, Wesco's going through some portable-printer woes, so let's take it out there.' They loved it, ordered a dozen, then another dozen, then another four."
The MP Compact4 Mark II met Wesco's needs because it has been designed to be ideal for on-demand printing, especially where space is limited. The printer's compact size takes up less then half
the space of a traditional desktop label printer, but with the same duty cycle. The printers are constructed with a solid cast-metal frame and protected with metal die-cast covers, which allows them to withstand the rigors of warehouse or high-volume printing applications. Printing integrity is preserved through the presence of an anti-vibration quick-lock mounting plate.
Media loading is also optimized as the levers are large and easy to manage, so easy, in fact, that they can be operated single-handedly while wearing a leather or latex glove. The paper path is also accessible through the side of the printer, eliminating the need for time-consuming covers to open or clamshells to undo. The printer's design allows the unit to be mounted vertically, or even upside-down. Finally, Datamax-O'Neil supplies a one-year warranty for the printer, including the platen roller and all installed options, and a one-year or one-million-inches, whichever comes first, warranty on the printhead.
A New Standard
Wesco is currently using 28 MP Compact4 Mark II printers that are mounted on pickers and used in conjunction with an RF gun, and the results have helped set a new standard in operational efficiency and reliability in Wesco's picking applications.
"I have found these printers to be easy to work with," said Schreiber. "In addition, they are heavy-duty enough to take the beating of bouncing around on a picker all day with minimal downtime, all while being able to print to all of our customers' requirements. The Datamax-O'Neil printer offers solid, reliable printing at a reasonable cost."
"The printers have been working well, they love the ruggedness and durability," added Good. "All we've heard is good things about the reliability, ease of use and capacity of the labels they feed through it. They have really been successful in a lot of ways."
The reputation of the MP Compact4 Mark II printer at Wesco has grown to the level that employees in the Valencia warehouse facility are now requesting them instead of being forced to work with the old, inefficient printing technology.
"The real proof of how well these printers work is that the staff asks for the Datamax-O'Neil printer to be installed on their picker when other brands of printer need repair." said Schreiber. "We are currently in the process of outfitting all of our existing pickers with the Mark II printers."