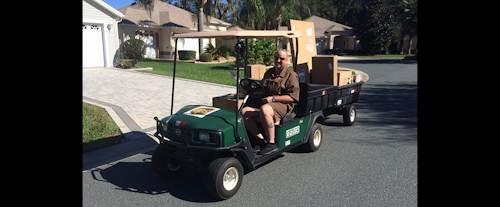 UPS and the union representing its Kentucky delivery drivers are sparring over the consequences of a new state law allowing golf carts to travel on certain public roads.
The Wall Street Journal reports that the new law will enable UPS to use retrofitted carts to complement its current delivery fleet, but drivers suggested that the parcel giant largely aimed to cut salary costs.
The repurposed golf carts would be equipped with cargo storage areas -- as well as seatbelts, turn signals and other indicators -- and would travel at a top speed of 15 miles per hour.
James DeWeese, a member of Teamsters Local 89, noted that part-time cart drivers would earn about $15 per hour. Although truck or van drivers receive a starting wage of $18.75 per hour, the rate generally climbs to more than $35 per hour after four years.
The spat took on particular significance in Kentucky, which is home to a major UPS package sorting hub.
"They're just looking to pay the drivers less at the expense of the safety," DeWeese told the Journal.
UPS officials said that although the initiative would provide greater flexibility -- particularly during the holidays -- without significant fleet investments, they disputed the union's allegations.
The carts would only operate in areas where the speed limit is 35 miles per hour or less.
"We will not operate in conditions that are determined to be unsafe," UPS spokesman Glenn Zaccara told the paper.
UPS also noted that the carts can travel between 25 and 40 miles on a single charge. The program is one of several started by UPS and rival companies in hopes of easing shipping costs.
The union's contract with UPS includes language regarding golf cart deliveries, but it was initially inserted to address communities where golf carts are the primary mode of local transportation. The issue could be part of forthcoming contract talks next year.