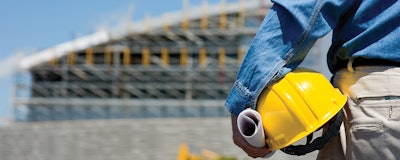 WASHINGTON (AP) — U.S. construction spending dropped 1.7 percent in March, the biggest setback in 11 months, with weakness in a number of sectors including the biggest plunge in home building in nine years.
The March decline was the first monthly drop since last July and the biggest contraction since a 1.8 percent fall in April 2017, the Commerce Department reported Tuesday. Spending on residential construction was down 3.5 percent, the worst showing since a 4.2 percent decline in April 2009.
Economists are forecasting that construction spending will contribute to overall growth this year even though interest rates are rising. Home mortgage rates are now at their highest levels in four years and the Federal Reserve, which is meeting this week, is expected to keep gradually raising rates this year to guard against inflation pressures getting out of hand.
The Fed, which raised rates in March, will likely leave its benchmark rate unchanged this week but raise rates again in June.
Spending on nonresidential projects fell 0.4 percent, with office buildings and commercial projects such as shopping centers both down. Spending on government projects was unchanged from the previous month. A 2.2 percent rise in spending by the federal government offset a 0.3 percent dip in state and local projects.
In the construction report, the 3.5 percent drop in residential spending reflected a 2.7 percent fall in spending on apartment construction and a smaller 0.4 percent decline in single-family home construction. The decline in nonresidential construction reflected weakness in spending on construction of offices, shopping centers, hotels, health care facilities and factories.
Total construction spending had been steadily rising since last August. Even with the March drop, spending at an annual rate of $1.28 trillion is close to record highs and 3.6 percent above where it was a year ago.