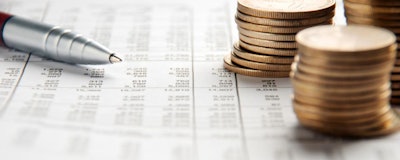 WASHINGTON (AP) — President Donald Trump is calling on federal regulators to consider scrapping the requirement for public companies to report quarterly results, after business executives told him twice-yearly reports would make better economic sense.
In a tweet early Friday, Trump said that after speaking with several top business leaders, he's asking the Securities and Exchange Commission to determine whether shifting to a six-month reporting requirement would help companies grow faster and create more jobs.
For companies, "That would allow greater flexibility & save money," Trump tweeted.
Trump later told reporters the idea was especially urged on him by Indra Nooyi, CEO of PepsiCo, who is stepping down in October. Nooyi, who led the food and beverage giant during a turbulent time in the industry, is a rarity as a woman and a minority leading a Fortune 500 company.
Nooyi offered some clarity later in the day on her recent comments to the president. In a statement, Nooyi said she and other CEOs "have been discussing how to better orient corporations to have a more long-term view."
She said cutting the required frequency of financial reports was one of several suggestions that she made, with the aim of moving companies toward focusing more on long-term goals rather than immediate results.
"I'd like to see twice (a year), but we're going to see," Trump said. "So we're looking at that very, very seriously. We're looking at twice a year instead of four times a year."
The SEC's chairman said the agency already is studying the issue.
Quarterly financial reports are a staple of U.S. corporate practice. The SEC requires public companies to report profit, revenue and other figures publicly every three months. The requirement dates to the establishment of the agency in the 1930s Great Depression, as a way to give investors confidence in company information.
Experts have long asserted that the practice of companies publicly forecasting every quarter how they expect earnings to shake out puts too much stress on short-term performance and stock price gains. That can pressure executives to engage in reckless practices to hit quarterly targets or even to manipulate earnings reports. But quarterly reports on results are distinct from the so-called earnings guidance that company executives provide as a forecast.
The SEC in 2016 considered the idea of cutting the quarterly requirement, and signaled that it might do so.
SEC Chairman Jay Clayton said in a statement Friday that the agency "continues to study" the reporting requirement as well as other rules for public companies.
"The president has highlighted a key consideration for American companies and, importantly, American investors and their families — encouraging long-term investment in our country," Clayton said.
Scrapping the quarterly requirement "is a solution in search of a problem," said Charles Elson, a professor and director of the University of Delaware's Weinberg Center for Corporate Governance. "Earnings manipulation can take place whether quarterly or every six months."
Quarterly reports are "early warning signs of other bigger problems," Elson said.
Companies' intense focus on short-term gains rather than long-term investment and growth, and the tying of executives' compensation to quarterly earnings targets, has been widely criticized — and blamed in the case of big banks for helping fuel the 2008 financial crisis. Two influential figures, JPMorgan Chase CEO Jamie Dimon and billionaire investor Warren Buffett, recently urged together that public companies either reduce or eliminate quarterly earnings guidance.
However, they said, their view on the harm caused by corporate "short-termism" shouldn't be interpreted as opposition to quarterly and annual reporting. "Transparency about financial and operating results is an essential aspect of U.S. public markets," they wrote in a Wall Street Journal op-ed in June.
On the other hand, a study by experts at Duke University's Fuqua School of Business and City University of London, England, found that frequent financial reporting in itself creates short-sightedness that pushes companies to stress immediate results at the expense of longer-term investments. They found that long-term investments declined at companies that were required to step up the frequency of their reporting.
Business executives pressing for less frequent financial reporting maintain that the costs of putting together quarterly as well as annual reports are burdensome.