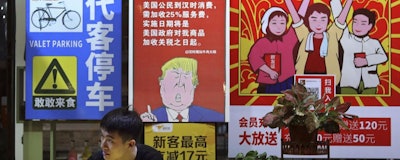 WASHINGTON (AP) — Fishermen off the Alaskan coast. A Florida maker of boat trailers. A building materials distributor in Tennessee.
Those and hundreds of other American businesses are delivering the same plea to President Donald Trump as he considers imposing tariffs on nearly 40 percent of imported Chinese goods:
Don't do it.
The Trump administration will hold six days of hearings starting Monday in Washington on the next barrage in an escalating trade war between the world's two largest economies: Trump's proposed tariffs of 10 percent to 25 percent on $200 billion in Chinese goods that could kick in as early as next month.
Once in effect, the tariffs would immediately inflate the prices that American companies would have to pay for Chinese components they need to build their products. Those companies would have to decide whether to pass those costs on to their customers or absorb the higher prices themselves.
The first shots have already been fired: In July, Trump slapped 25 percent tariffs on $34 billion in Chinese imports. Taxes on an additional $16 billion are set to kick in this week. China is counterpunching with tariffs of its own.
But the $200 billion in additional Chinese goods that the Trump administration is considering taxing would mark a significant escalation in its trade fight with Beijing.
Washington and Beijing are clashing over U.S. allegations that China uses predatory tactics to try to overtake American technological dominance: Those tactics, the administration argues, include cyber-theft and pressure for U.S. companies to hand over trade secrets in return for access to the Chinese market.
So far, the U.S. tariffs have targeted imported Chinese industrial products — not the electronics, toys and food that ordinary Americans might buy at a mall or order online. But adding $200 billion to the target list would expose to hefty taxes many more of the $506 billion in goods that China shipped to the United States last year, including many consumer products. The list includes 6,031 Chinese imports — an eclectic compilation that ranges from buttons to burglar alarms to motorboats.
JO-ANN Stores, which sells fabric and crafting supplies, says it imports about 500 items on the tariff list, including fleece, yarn and cotton fabric. Ed Weinstein, JO-ANN's vice president of tax and public affairs, said he doesn't understand how supplies for knitters and crafters became caught up in a trade dispute over high-tech policy.
"Our products are very simple," Weinstein told The Associated Press. "I would never have expected to see fabric and craft components on the tariff list."
In their filings to the Trump administration, companies that import from China complain that the tariffs will force them to raise prices, pay higher costs, try to find alternative suppliers or lose business to foreign rivals that don't have to pay a penalty on components and machinery they import from China.
"If you look at the filings, a lot of them are mom-and-pop businesses saying, 'Please don't do this to us,' " said Bryan Riley, director of the Free Trade Initiative at the conservative National Taxpayers Union.
Consider:
— Seattle's Groundfish Forum, a trade group for the operators of 19 fishing trawlers off Alaska. It warns that the tariffs will hit flatfish caught off the U.S. coast that are sent to China for processing before being shipped back to the United States. Trump's proposed 10 percent tariff on those fish would leave the "sustainably harvested fish caught by U.S. fishermen at a competitive disadvantage," the group says in a filing with the administration's Office of the U.S. Trade Representative.
— Magic Tilt Trailers, a company in Clearwater, Florida, that makes boat trailers. It says it has to buy Chinese tires and parts on Trump's target list; there are few alternatives.
"The tariffs will have little to no impact on the sourcing options of members in the trailer manufacturing community," the company wrote. "We will just be getting a 10 percent tax, payable to the general treasury."
— Building Plastics Inc., a Memphis-based building materials distributor. It buys 400- to 800-pound slabs of Chinese quartz and sells them to fabricators that turn them into countertops and other items for homes and offices. The company says it's tried and failed to find alternative sources of the mineral.
"We did not want to go to China, but we were forced to go to China," said Mike Perkowski, a product manager for the company.
Perkowski said the tariffs could prove "catastrophic."
"There's a possibility we could be priced out of the market," he said in an interview. "We're definitely going to have to pass along the tariffs ... We've been educating our customer base that tariffs are coming. There will definitely be a price increase."
Can the U.S. and China avoid a $200 billion tariff collision? Hopes rose last week on news that China will send an envoy to Washington this month to discuss a way out of the standoff.
But many trade analysts aren't very optimistic. A solution would likely require China to widen its market to foreign companies, reduce subsidies to domestic industries and rethink industrial policies that are considered vital to helping Chinese companies become leaders in such advanced fields as electric cars and robotics and thereby strengthening China's economy.
"China is not going to become a functioning market economy as we would like to see it in the next two months or even in the next two years," said Bradford Ward, a former U.S. trade official and now at the law firm King & Spalding. "People need to prepare for and plan for the long haul. This is not going to be resolved quickly."
The tit-for-tat tariffs between the U.S. and China, Riley said, "could be become the new normal."