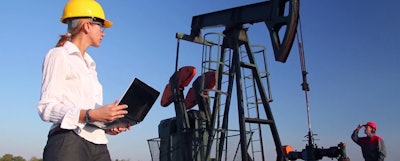 The active U.S. rig count continued its long-standing climb last week with a miniscule gain, while the price of WTI Crude oil settled in above $71.
The combined active oil and gas rig count climbed by one last week to 1,046 — its highest count since March 27, 2015 (1,048). Though it paled in comparison to gains of 13, 11 and eight the previous three weeks, last week was the count's seventh-straight increase, with data from oilfield services provider Baker Hughes showing the only change in the U.S. count was one additional gas rig. The current U.S. oil rig count of 844 is up 124 year-over-year (YoY), or 17.2 percent and is at its highest mark since March 13, 2015 (866). The active gas rig count of 200 is up 20 YoY, or 11.1 percent. The U.S. miscellaneous rig count remained at two.
The U.S. combined rig count has increased by 117 so far through 20 weeks of 2018, which has included 15 weekly gains, four decreases and one hold.
Of last week's combined rig count, New Mexico added three, Texas added two and Kansas added one, while Alaska, Colorado, Louisiana, North Dakota and Ohio each lost one.
Below is the daily U.S. rig count provided by Drillinginfo on its DailyRigcount.com — a microsite that utilizes data from GPS tracking units and publicly-reported information to monitor oil and gas drilling rig movements in the U.S. Unlike raditional rig counts — such as those from Baker Hughes — typically define a rig as active only when it is "turning to the right," and have been released on Friday afternoons every week since 1944, whereas DailyRigCount defines a rig as active from the time a GPS tracking unit identifies it at a permitted oil and gas drilling location until the time it leaves, and is released daily.
Canada/North America
Canada's seasonal rig count decline appears to have turned the corner. After falling from 342 rigs in early February to a low of 79 on May 11, Canada's combined rig count posted its second gain in three weeks this past week — adding four overall. If the count truly is now on the upsing, then this year's seasonal rig count decline essentially matched last year's, with the 2017 count hovering between 80-99 between April-May 2017.
Canada's Friday mark was two less than a year earlier. It added six oil rigs last week and lost two gas rigs, with its current oil rig count of 38 up by two YoY and its gas rig count of 45 down by four.
Friday's North American combined rig count of 1,129 increased by five from a week earlier and was up by 143 YoY, or 14.5 percent.
Oil Price Update
When oil topped $70 on May 6, it was its first time it had done so since early December 2014. It seems oil has now comfortably settled in even higher, holding above $71 throughout the second half last week and into Monday. Oil opened Monday, May 14 at $70.49 and experienced some volatility through Tuesday before starting a steady climb late Wednesday morning. Oil reached as high as $72.17 Thursday morning and closed the work week Friday at $71.40 before climbing over the weekend. Oil opened Monday, May 20 at $71.87 and was at $71.75 as of 8:53 a.m. CT.