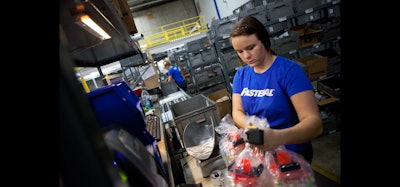 The U.S. Bureau of Labor Statistics released its July employment report on Friday, showing that unemployment remained unchanged, while manufacturing added more jobs.
While the nation's unemployment rate held steady at 4.9 percent, total nonfarm employment increased by 255,000 jobs in July, following May's 287,000 gain. The past two months have been a vast improvement from April's gain of just 11,000 jobs.
Manufacturing added 9,000 jobs during July. The sector gained 11,000 jobs in durable goods manufacturing, while non-durable goods jobs declined by 2,000. Manufacturing added 14,000 jobs in June.
Transportation and warehousing added 11,700 jobs in July, a healthy rebound from its June decline of 6,700 jobs. Of that, warehousing and storage added 2,600 jobs in July, following a 3,500 gain in June.
Construction had a healthy gain of 14,000 jobs last month, following declines of 3,000 and 18,000 in May and June, respectively. Mining lost another 6,100 jobs in July, essentially the same decline as June.
The construction industry added 14,000 jobs during the month, while mining and logging lost another 7,000 jobs.
Manufacturing added 14,000 jobs in June, including 11,000 in nondurable goods and 3,000 in durable goods. Construction employment showed no change, while mining lost 6,000 jobs. The Bureau reports that mining has lost 211,000 jobs since peaking in 2014.