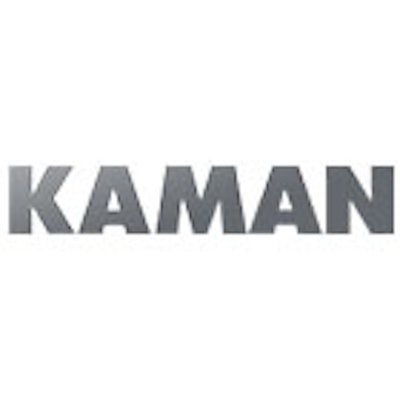 BLOOMFIELD, Conn. — Kaman Corp. (NYSE:KAMN) on Monday reported financial results for the third quarter that ended Sept. 26.
Net sales for the third quarter $462 million, a 9.1 percent increase over Q3 2013.
Net operating income for the quarter was $26 million, a 17.4 percent decrease year-over-year.
Neal J. Keating, Chairman, President and Chief Executive Officer, stated, "While we faced several challenges during the third quarter we are pleased that Aerospace continued to deliver improved margin performance and Distribution achieved its fourth consecutive quarter of organic sales growth. In addition, we generated very strong free cash flow during the quarter, which provides us the ability to increase our free cash flow outlook for the year."
Distribution achieved sales growth of 13.0 percent; Kaman's highest rate of growth since the second quarter of 2011. Organic sales growth trends through mid-September were favorable; however, the company experienced significantly weaker sales in late September, reducing organic growth for the quarter to 1.7 percent. In addition, the first phase of Kaman's ERP implementation went live during the quarter, causing a larger sales disruption than anticipated.
Aerospace continued to deliver strong profit performance with sequential operating margin improvement to 17.4 percent.
The increase in sales in the third quarter resulted from $31.1 million in sales from acquisitions and an increase of $4.6 million in organic sales. Sales from acquisitions are classified as organic beginning with the thirteenth month following the acquisition.
The decrease in operating income in the third quarter was driven by higher operating expenses, primarily related to net costs associated with sales force expansion, an increase in incentive compensation, severance costs recorded during the period, higher depreciation expense and the impact associated with our ERP implementation. These increases were partially offset by the addition of operating income from 2013 and 2014 acquisitions.
Chief Financial Officer Robert D. Starr said, "Aerospace delivered a solid performance for the quarter, with a 17.4 percent operating margin, due to continued strong performance for our bearings products and the New Zealand Program. While we are pleased with this performance, our year over year margin results were lower largely due to the mix of our JPF sales in the quarter which shifted from higher margin direct commercial sales to lower margin USG sales. We have lowered our Aerospace sales outlook to reflect project delays and timing of deliveries for certain aerostructure programs. Based upon our anticipated fourth quarter sales mix we have raised our full-year operating profit margin outlook to 16.8 percent to 17.0 percent."
Distribution sales grew 13.0 percent to a record $309 million due to the contribution of B.W. Rogers and continued organic sales growth. The company has reduced its sales outlook to reflect the estimated disruption related to ERP implementation and to account for lower organic growth rate expectations that are largely attributable to weakness in the domestic mining sector, project delays within our automation, control and energy product platform and continued sales weakness in Mexico. The company's revised margin outlook reflects the deleveraging impact associated with the decrease in sales and the impact of the ERP roll-out.