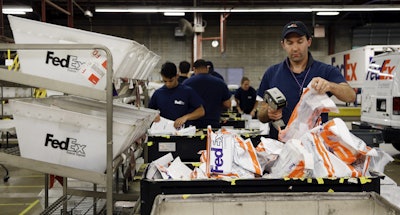 DALLAS--(BUSINESS WIRE)-- FedEx Office has announced the launch of FedEx Pack Plus, a new in-store packing solution catering to all types of shipments for all types of needs, whether easy or hard to pack, even large, bulky and fragile items. With holiday season upon us, customers can rely on specially trained FedEx Office pack and ship professionals to help pack items that won't fit into typical boxes, using customizable packaging. FedEx Pack Plus is backed by the FedEx Office Packing Pledge and a variety of FedEx delivery options are available backed by the FedEx money-back guarantee.
"Customers trust us with their important business and personal shipments, and FedEx Pack Plus is designed to give you peace of mind for all your shipments," said Brian Philips, CEO and president of FedEx Office.
From drum sets to sports equipment to oversized pictures, FedEx Pack Plus offers custom packing services with specialty boxes as well as other packaging options to accommodate customers' typical and atypical packing and shipping needs in a secure manner.
Added Philips, "FedEx Office is committed to creating solutions and services that provide our customers with greater convenience and confidence."
At the start of the 2014 holiday season, FedEx Pack Plus is available in most FedEx Office locations in 12 cities across the U.S. They include Austin, Baton Rouge, Charlotte, Dallas/Fort Worth, Indianapolis, Nashville, New Orleans, Oklahoma City, Portland, Tulsa and Richmond, with the rollout continuing through 2015.
For more information about FedEx Pack Plus, visit fedex.com/office.