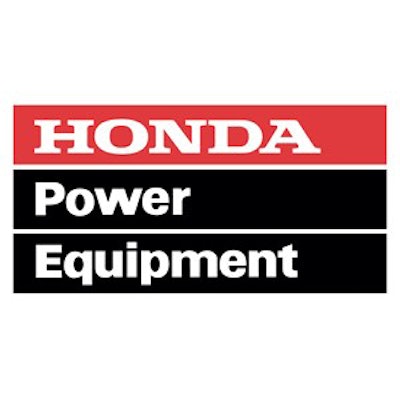 ALPHARETTA, GA — Honda Power Equipment, a division of American Honda Motor Co., Inc., and marketer of a range of outdoor power equipment, announced Friday the expansion of its partnership with The Home Depot, the world's largest specialty retailer of home improvement and construction products and services. Beginning Sept. 1, a number of Honda generator models will be sold at The Home Depot's top 300 U.S. PRO Desk locations, a specialized area of the store dedicated to the product and service needs of the professional contractor. The Home Depot PRO Desk is designed to make it faster and easier for contractors to shop for construction and building materials, helping pros save time and money.
According to the terms of the new agreement, Honda Power Equipment will supply The Home Depot with five of its generator models. Three Industrial Series models, the EB2000i, EB3000c and EB5000, and two Super Quiet Series models, the EU2000i and EU3000is, will be offered for sale at selected PRO Desk locations. In addition, The Home Depot also will make these five models, plus two additional Honda generator models--the Super Quiet Series EU1000i and EU3000i Handi--available for purchase via its website at www.homedepot.com.
By broadening its alliance with The Home Depot with the supply of EU and EB generator models, Honda Power Equipment can strengthen its multi-channel sales approach, creating growth and awareness among professional contractors of its portable power product and brand with the world's largest specialty retailer. This awareness is anticipated to drive sales growth, particularly in the commercial segment, through increased purchase consideration, product reviews and additional internet visibility. By extension, contractors and consumers have the flexibility to choose where they prefer to have products serviced --at one of The Home Depot service outlets, or through an independent servicing dealer. The result is overall improved customer service and satisfaction.
"The Home Depot has earned a reputation for an entrepreneurial spirit and excellence in customer service, and Honda Power Equipment's new agreement with this leading retailer illustrates an important, mutual ability to anticipate emerging customer needs and buying trends," said Mike Rudolph, vice president of Honda Power Equipment. "Honda Power Equipment combines depth of experience in building successful outdoor power equipment products for retail customers and providing a broad range of premium product offerings. Our goals are to reach more customers by expanding our brand awareness and product availability, and increase our market penetration."