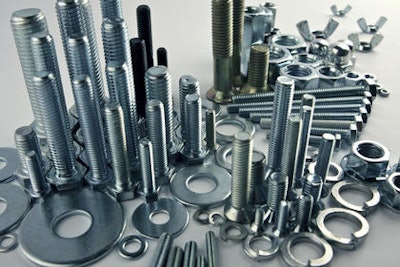 The Fastener Distributor Index (FDI) is a monthly survey of NorAm fastener distributors that aims to provide insight into current trends/outlooks. As a diffusion index, readings above 50 signal strength and below 50 signal weakness. July's reading totaled 49.8, which we believe is consistent with the tough current environment for many distributors. Sequential declines in sales, employment, and pricing were noted among survey participants, while 6-month expectations appear to have modestly improved versus the prior reading. Overall, we believe that fastener distributors continue to face material demand pressure from lower commodity prices, forex, and weaker industrial production. We will continue to monitor the monthly FDI, seeking more tangible signs of industry optimism. For now, however, we maintain our cautious overall outlook on both the industry, and our fastener-specific names under coverage.
About the Fastener Distributor Index (FDI). The FDI is a monthly survey of NorAm fastener distributors, conducted with the FCH Sourcing Network and the National Fastener Distributors Association. It offers insights into current industry trends/ outlooks. As a diffusion index, figures above 50 signal strength, while readings below 50 signal weakness. It should be directly relevant to Fastenal and broadly relevant to other distributors (W.W. Grainger, MSC Industrial). This month's reading marks the first publication of the Index by BB&TCM since May 2014, although the survey has continued (unchanged and uninterrupted) during this period.
Weaker sequential sales trends not surprising. Of the items measured (sales, employment, delivery times, inventories, customer inventories), weaker top-line sentiment stood out; 54% of respondents said July sales were weaker versus June (58% saw customer inventories as appropriate). While we note that a sequential decline in total sales is normal for July given seasonality, the percentage of respondents noting a deterioration in conditions was the highest in the survey's brief history (January 2012). We believe the results are consistent with slowing yr/yr sales from Fastenal (+3.2% in July versus a five year average of +13.5%), Grainger (+1% in June), and MSC (company estimated +2.2% in June, versus +7.6% last year). Last month, Fastenal noted that 11 of its top 25 customers had negative growth in June.
Employment largely unchanged, select adds continue. The majority (79%) of respondents indicated no sequential change in employment plans for July. While we believe this makes sense given the current pressure on spending, we do expect select distributors will continue to bolster salesfocused staff to facilitate new growth where possible. Fastenal added 98 total heads (+8% yr/yr) in July.
Pricing environment largely stagnant. Point-of-sale pricing for July was unchanged versus June for 67% of survey participants, although roughly half indicated slightly higher pricing versus the year prior period. We believe the overall environment for price increases remains notably soft given material demand pressure (declining commodity prices, forex, weaker industrial production) and minimal inflation. Additionally, we view the survey results as largely consistent with recent Grainger price adjustments (-1% in Q2'15) and FY'15 guidance (also -1%).
Six month outlook modestly encouraging. 50% of survey respondents indicated a favorable outlook for expected North American activity levels in six months (29% unchanged). While this certainly doesn't speak to overwhelming optimism, in our view, we would note that this is the highest monthly figure since February (55%), and a solid uptick from June (42%). We believe that overall fastener sales should see some benefit from stronger res/non-res construction gains in H2'15.
What does this mean for public distributors? In our view, the data reflects overall weakness within the domestic economy, and 2015 has proven difficult thus far for many industrial distributors. We believe lower energy spending is at the root of weaker sales, with currency woes further compounding the slowdown.