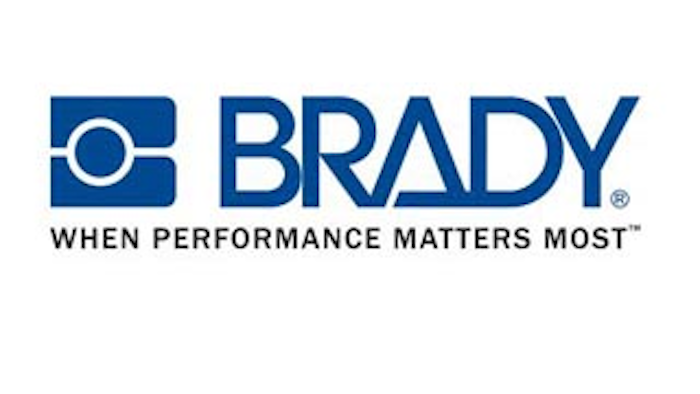 The Brady Corporation, an international manufacturer and marketer of identification solutions, reported an increase of one percent in sales for its 2Q compared to its comparable quarter in 2012.  Net income loss in the fiscal 2013 second quarter was $8.7 million compared to $90.0 million in the same quarter last year.
Brady also said it will be changing its organizational structure from geographically-based to an organization structured around three global business platforms: Identification Solutions, Workplace Safety and Die-Cut.
Sales for the fiscal 2013 second quarter that ended January 31, 2013, were 324.2 million compared to $320.6 million in the second quarter of fiscal 2012. Organic sales declined 3.1 percent. By segment, organic sales increased 0.6 percent in the Americas and decreased 5.0 percent in EMEA and 7.0 percent in the Asia-Pacific region.
During the second quarter of fiscal 2013, Brady acquired Precision Dynamics Corporation ("PDC") for $301 million. PDC is a leader in identification products primarily for the healthcare sector with annual revenues of approximately $173 million.
Sales for the six-month period ended January 31, 2013, were down 1.3 percent to $661.8 million compared to $670.1 million in the same period last year. Organic sales were down 2.5 percent, the impact of foreign currency translation decreased sales by 1.0 percent, and acquisitions, net of divestitures added 2.2 percent.
Net income (loss) for the six months ended January 31, 2013 was $18.5 million compared to $(57.2) million in the same period of fiscal 2012
As part of its reorganization, The Identification Solutions business will focus on innovative identification solutions for a broad range of applications including wire identification, product identification, safety and facility identification and healthcare identification. The Workplace Safety business will be expanding its multi-channel direct marketing model by providing a broader set of workplace safety products with an increased focus on e-business. The Die-Cut business will continue to provide precision solutions primarily to the global electronics industry.