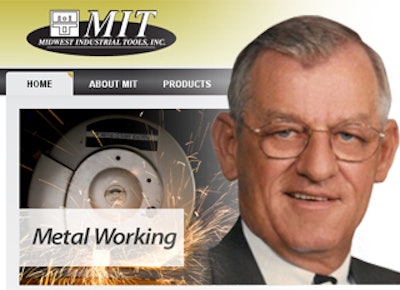 Distribution lost a true leader last week when Allan Chartier, former CEO and president of Midwest Industrial Tools, died at the age of 67.
I first met Allan nearly 30 years ago at an industry convention. I was new to the industry and after Allan and I talked he said, "If I can be of any help at any time, please don't hesitate to call me."
I took him up on the offer and we often exchanged telephone calls about what was going on in the industry. I could always depend on Allan Chartier.
Allan was always the steady voice who said what he thought and won the respect of his colleagues and friends with his wit, intelligence, and the ability to bring people together - people who often had different interests in mind. This was especially true during a tumultuous time when his distributor association was in the middle of a dispute with a manufacturing group.  There was the possibility of two separate associations being formed. But people like Allan, Columbus McKinnon's Tim Tevens, and Tom Berger of Fuchs Machinery formed a powerful trio that helped both sides reach a common ground.
"Allan was just a wonderful human being," Tevens recalled in an interview. "No one ever had a bad word to say about him. You couldn't. Even his competitors had all good things to say. He really was a stalwart in our industry - an industry he cared so much about."
He praised Allan for helping the Industrial Supply Association through its initial beginnings, especially in light of the friction between various factions as ISA was formed.
Adds John Buckley, current executive vice president of the Industrial Supply Association: "Allan was a true leader. What can you say other than he was a great guy in every way possible. He was always willing to help anyone. I was one of them. He helped me so much when I came into the association."
Buckley said that Allan was especially proud to be involved in the distribution business. "The industry and the friends he made in it meant everything to him. His main focus was improving the business and industry he loved so much and to make sure its future was secure."
Buckley recalled how Chartier once told him that his proudest moment in the industry came was when he was asked to serve on the selection committee for choosing the winner of the Gary Buffington Scholarship Award. The late Gary Buffington was the former head of the ISA and the two had been close friends.
"Allan not only helped select the winners, for two years he went out to the university and told the winner in person," Buckley said. "He was just such a special guy. He'll be missed so much by so many people."
Allan knew everybody, and everybody knew Allan.
Just take a look at his background and his involvement in association activities.
During his career in the industrial supply channel, Allan served on the boards of several industry associations and business organizations. He was a past president of the Industrial Distribution Association, the Central States Industrial Distributors Association, and the Iowa-Nebraska Industrial Distributors Association; past chairman of the American Machine Tool Distributors Association; and network chairman in the Industrial Supply Division of Affiliated Distributors. He received recognition and multiple awards from many industry groups. He had also served as chairman of the ISA Education Foundation Board of Trustees.
"That (Foundation Board) meant so much to him," said Tevens. "When we approached him to take on the task he was so willing."
Allan exhibited leadership qualities early in life, serving as captain of his high school swim team at Central High School in Sioux City, Iowa. While attending New Mexico State University, where he studied accounting and mechanical engineering, Allan was president of the Accounting Club and rose to the ranks of Army ROTC Cadet Brigade Commander.
After college, he began his professional career with Del E. Webb Corporation and later worked for the Sioux City Foundry Corporation. In 1974, Chartier entered the field of industrial distribution, accepting a position as sales engineer for Midwest Industrial Tools (MIT). He was promoted to sales manager for the Omaha territory in 1978, and promoted to general manager of the Omaha branch a year later.
In 1982, Chartier and his wife, Lynda, and two other partners purchased MIT from the original owners. He and Lynda eventually became sole shareholders of MIT and introduced their three children into the business as they became old enough to assume various responsibilities.
Two years ago, MIT was sold to DGI Supply.
Allan was someone I'm proud to have called a friend. When I left distribution briefly a few years ago, Allan was one of the first people to call me and offer best wishes.
But that was Allan-a true gentleman, a great leader, and a class act. He will be missed.