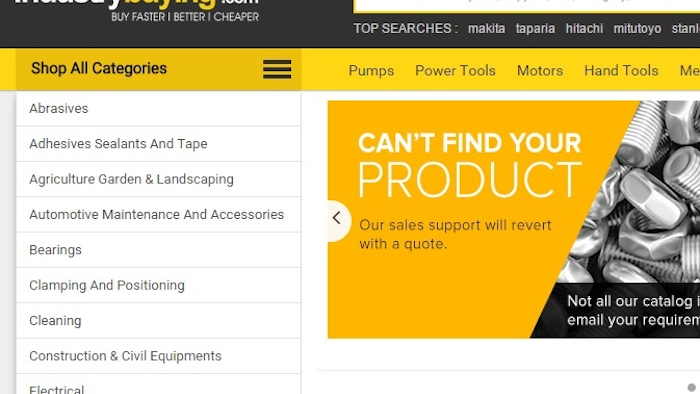 Venture capital investor SAIF Partners announced Wednesday it has invested $2 million in Dehli, India-based industrybuying.com, an e-commerce seller of industrial material.
The year-old company will use the funds to invest in technology for order fulfillment and integration with logistics providers, its direct traffic and vendor base, as well as grow traffic, and expand product coverage.
Industrybuying.com, which claims to host more than 500 brands, 1,000 suppliers, and 150,000 products is said to be India's first large-scale e-commerce industrial products provider.
"Nobody in India was doing what Grainger.Com and Amazonsupply.Com have done in the U.S.," the company said. "We saw the gap and launched our ecommerce operations. Our vision is to be for Industry what Flipkart or Snapdeal are for consumers."
Founded by brother-sister duo Rahul and Swati Gupta, industrybuying.com's omni-channel offering includes customers like Motherson Sumi, Havells, RPG, Honeywell, Simens, Tata Power, and Escorts.
Industry accounts for 25 percent of India's GDP. Retail accounts for 14 percent, while B2B e-commerce accounts for just 7 percent. IndustryBuying.com does have B2B industrial parts competitors in India, however. Tolexo, launched in June 2014, has more than 50,000 SKUs across 12 categories. Flipkart and Snapdeal also sell in several industrial categories. IndustryBuying.com has 36 categories.
"What we are aiming to do is much wider. Besides the simpler industrial goods, we have categories like welding equipment, pneumatic tools, and so on," Swati Gupta told TechInAsia. "In short, we have the entire gamut of industrial products that one requires in running a manufacturing unit or a project in the infrastructure, power, or other such sectors."