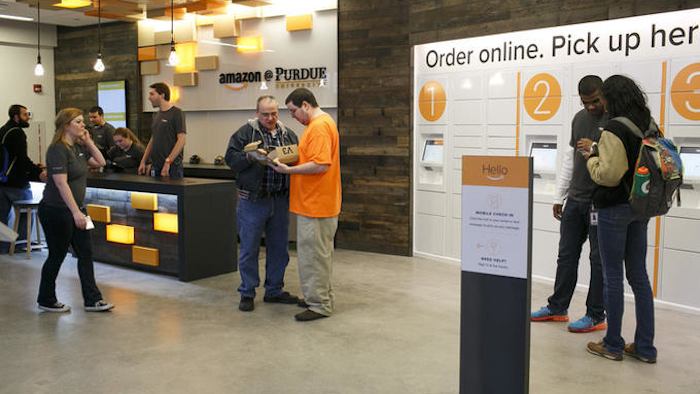 Amazon's first-ever brick-and-mortar store is not on Manhattan, New York's prestigious 34th street, afterall. It is on the campus of Purdue University in West Lafayette, Indiana.
The e-tailer giant announced Tuesday the grand opening of Amazon@Purdue, its first-ever staffed customer order pickup and drop-off location. The store aims to give Purdue students a new convenient option for receiving textbooks and other college essentials. 
Students and faculty member who are subscribed to Amazon Prime or Amazon Student Services also get free one-day shipping on textbooks and free one-day pickup on more than a million products.
Sources say Amazon plans to open more stores in the future, including a second one at Purdue this spring. Other campuses slated to get their own Amazon@ store are the University of California, Davis, and the University of Massachusetts Amherst.
Back in October, the Internet was abuzz when news broke that Amazon planned to open its first brick-and-mortar retail location in Manhattan, New York, nestled between Macy's and the Empire State Building. Reports stated it would open in just in time for the holidies with same-day delivery in New York, functioning as a mini-warehouse for product returns and pickups of online orders. Those reports were thwarted, at least for now, when the Seattle Times reported in November that Amazon has no plans to open a store in the building. As of early December, the building is primarily corporate office space, with the ground for subleased for retail shops.
Shortly after Amazon announced Purdue's West Lafayette store, reports surfaced that the company is in talks with RadioShack about acquiring some of its physical stores. With RadioShack set to file bankruptcy, Amazon is said to be considering using the stores as showcases for its products, as well as potential pickup and drop-off centers for customers.