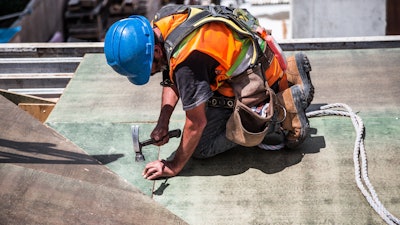 The Specialty Tools and Fasteners Distributors Association's (STAFDA) annual convention, held Nov. 10-12 in Nashville, TN, comes as the dust is still settling upon major news regarding one of the biggest companies in the construction and industrial supply space.
HD Supply — No. 2 on Industrial Distribution's 2019 Big 50 List — announced Sept. 24 that it will split into two essentially equal-sized, independent and publicly-traded businesses by the middle of its fiscal 2020. The Atlanta, GA-based company's current Facilities Maintenance (FM) business will retain the HD Supply name going forward under the leadership of chairman and CEO Joe DeAngelo, while HD Supply's Construction & Industrial-White Cap (C&I) business also becomes its own entity and will be led by current president John Stegeman, who is expected to become CEO after the separation.
Both FM and C&I had approximately $3 billion in 2018 full-year sales.
HD Supply said the separation will position each segment as a focused, independent company, enabling each to pursue its own organic growth and acquisition strategy.
Here are some of the key numbers about HD Supply C&I, which the company describes as a one-stop shop for concrete accessories, specialty construction and safety products:
~200,000 customers — 75% non-residential, 25% residential
Customers are concrete and self-performing general contractors
~400,000 product SKUs, with the top categories covering concrete accessories & chemicals, safety, tools & equipment, building materials & fasteners and erosion control & waterproofing
270 locations in 39 U.S. states and six Canadian provinces
5,500+ associates
Alan Sollenberger, current COO of C&I, is expected to have the same role after the separation
Market Updates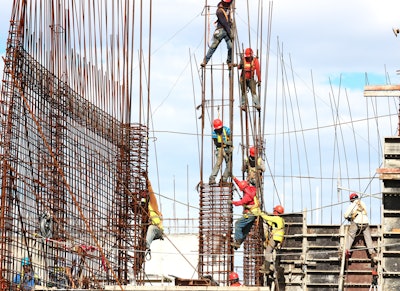 According to the U.S. Department of Commerce (DoC), U.S. construction spending edged up just 0.1 percent in August, considered a disappointment as continued weakness in nonresidential construction offset the best gain in homebuilding in nine months. The weak growth followed declines in May and June and a flat reading in July.
Other recent construction statistics of note from the DoC:
Home construction spending was up 0.9 percent in August — its best showing since a 3.2 percent spike in November 2018
August nonresidential construction declined 1 percent amid lower spending on schools, hospitals and hotels
August government construction spending improved 0.4 percent
Adjusted for seasonal variations, overall August construction spending of $1.29 trillion was down 1.9% from a year earlier
Year-to-date construction spending from January through August was down 2.3% year-over-year
Editor's Note: The U.S. Census Bureau's data for September construction spending was released after press time.
According to research firm Dodge Data & Analytics, new construction starts dropped 5 percent in September, following a 6 percent decline in August after three consecutive month-to-month gains over May to July. Nonbuilding construction starts led the September decline, sinking 13 percent from August, while nonresidential building starts dropped 6 percent and residential building rose 1 percent.
The September statistics pushed the Dodge Index lower to 164 (2000=100) compared to 173 in August, marking the lowest reading for the Index since May. Despite the month's decline, the Index remains close to its 2019 average of 167.
Through the first nine months of 2019, total construction starts were 3 percent lower than 2018 due to pullbacks in both residential and nonresidential construction starts. However, nonbuilding construction starts are 4 percent higher year-to-date as a result of strong gains in electric utilities/gas plants.
"Large projects continue to make their presence felt in the monthly statistics, sometimes obscuring underlying trends," stated Richard Branch, chief economist for Dodge Data & Analytics. "Nevertheless, construction starts have certainly throttled back in 2019 due to mounting uncertainty over the country's economic health."
Employment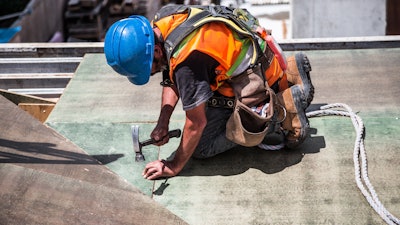 According to the U.S. Bureau of Labor Statistics, the construction industry added 7,000 net jobs in September and was up 156,000 jobs from a year earlier, or 2.1 percent. Nonresidential construction employment increased by 3,800 jobs in September and was up 96,300 year-over-year. Nonresidential construction gains were split between specialty trade (+3,000) and heavy civil engineering (+2,400). Nonresidential building lost 1,600 jobs in September and was down 8,400 year-to-date.
Overall, the U.S. construction unemployment rate stood at 3.2 percent in September, down 0.9 percentage points from a year earlier. That coincides with a nearly 50-year-low in total U.S. unemployment, which was at 3.5 percent across all industries in September.
"Nonresidential construction employment continued to expand in September, a reflection of a segment that remains flush with work," Associated Builders and Contractors chief economist Anirban Basu said of the numbers. "The ongoing declines in various measures of unemployment are consistent with the notion that the average contractor, including subcontractors, will continue to face enormous difficulty recruiting new employees. Many contractors continue to pay for substantial overtime, translating into flat profit margins or worse in the context of still plentiful bidding opportunities."
Looking Ahead
Despite the relatively disappointing numbers for U.S. August construction spending and September employment, several other data sources provide reasons for optimism in the construction market —at least in the near-term.
In Mid-September, the U.S. Chamber of Commerce and USG Corporation announced that their Q3 Commercial Construction Index climbed to a record-high score of 77, up from 74 in Q2 of this year. The results showed that half of all contractors expect revenue increases over the next year, up 14 percentage points from Q2's index, while expectations for increased profit margins were also up 12 points.
The majority (58 percent) of contractors reported they are highly confident that the next 12 months will bring sufficient business opportunities, a six-point growth over Q2. The survey noted this is the largest percentage in the last four quarters to report this degree of optimism.
"Contractors are thinking about the future and are optimistic about what's ahead," said Christopher Griffin, CEO of USG Corporation. "Continued levels of confidence around backlog and profit suggest nonresidential construction will continue to play an important role in overall sector growth."
The Q3 Index survey also asked contractors about resiliency, which was timely since the South Atlantic was reeling from Hurricane Dorian and bracing for the impacts of the rest of the 2019 hurricane season. Not surprisingly, three-quarters of general contractors said they have experienced schedule delays due to extreme weather events. Yet, only 38 percent of respondents in the South said they include the impact of weather when calculating project bids.
The Index summary noted that, consistent with the last several quarters, contractors indicated that they expect to increase their workforce, with 61 percent having plans to hire in the next six months. However, respondents report continued challenges in finding skilled workers with the majority (61 percent) reporting difficulty, up 4 percent year-over-year and up 7 percent quarter-over-quarter.
To deal with skilled labor shortages, 81 percent of contractors ask their current skilled workforce to do more work, while 49 percent currently turn down opportunities for work due to shortages.

Data from ITR Economics — led by president, economist and frequent industrial trade show speaker Alan Beaulieu — also shows near-term growth on the horizon. The market research firm predicts that the Q4 019 U.S. Materials & Components for Construction Producer Price Index will have marginal 0.8 percent growth, increasing to 1.2 percent growth for Q4 2020 and ramping up to a healthy 3.6 percent growth for Q4 2021. Those percentages have been revised down since ITR's previous such report, but indicate forthcoming better growth ahead nonetheless.
In U.S. private nonresidential construction, ITR predicts 2019 full-year growth of 4.1 percent over 2018. The firm sees that market continuing to rise into around mid-2020 and then declining into mid-2021, forecasting a 1.4 percent slide in 2020 and 1.2 percent growth for 2021.
ITR notes that total U.S. residential construction is in recession and will likely be into at least late 2019, adding that market factors indicate a potential business cycle trough around late 2019 or early 2020.
ITR said U.S. total federal government construction is currently in a phase of accelerated growth, and notes a $287 billion federal highway spending bill proposed to replace the Fixing America's Surface Transportation Act (FACT) that expires in late 2020. If the bill is able to secure financing, it could provide a boost to construction.
Event note: Beaulieu will deliver his 'Economic Update' presentation on Nov. 10 at STAFDA.