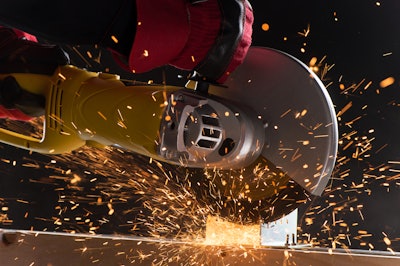 The cutting tool industry faces an array of disruptive challenges ranging from auto industry efforts to produce 100 percent electric vehicles, widespread jitters over lower oil prices, shifts in parts production levels taking place in the aerospace market, growing calls for customization, and a dearth of new talent entering the industry.
In addition, experts say that the consolidation trend that triggered an estimated 200 mergers and acquisitions among cutting tool manufacturers since the turn of the century likely will continue through and beyond 2019.
The available market for the U.S. cutting tools sector is in the $5 billion range, with most cutting tool value derived from milling and hole making—about 38 percent and 20 percent of the total, respectively, according to a 2018 report by international management consulting firm McKinsey & Company. In both areas, indexable tools—those with removable cutting tips—are growing at a higher rate than solid tools, both carbide and non-carbide, because they're less expensive and easier to repair.
Despite concerns over possible disruptive headwinds in the years ahead, market veterans still see cutting tools as a remarkably robust and resilient market that has long weathered ups and downs and express confidence that ultimately the sector will benefit from the trend.
Only the Paranoid Survive
"Whenever something disruptive happens, it could open up all kinds of new industries for cutting tools—opportunities we don't even know about right now," says Steve Stokey, executive vice president and owner of Dover, Ohio-based Allied Machine & Engineering Corp., an international manufacturer and supplier of hole making and finishing tooling systems. "As they say, only the paranoid survive."
Stokey adds that people usually tend to notice the things that are going away and overlook what might be around the corner. "We'll be looking at the new innovations that will be popping up, those that are going to need a different kind of cutting tool or different kind of approach in a big volume way that can help customers solve problems," he says.
In the meantime, cutting tool manufacturers that are key players in the automotive sector, including Allied, are keeping a close eye on automakers' "green" momentum by automakers away from gas fueled and hybrid cars toward full electric vehicles (EV).
Some recent auto forecasts have given the internal combustion engine, a huge market for cutting tools, only two generations before completely disappearing.
"The automotive companies don't want to build hybrids that have the electric motor and the internal combustion engine, so we can be five to eight years away from not having all those wonderful parts to be machining and that could have a tremendous effect on the cutting tool industry," according to Stokey.
Phil Kurtz, board of directors vice-chairman of Chino, California-based Wetmore Tool & Engineering Co. and president of the United States Cutting Tool Institute, agrees and says that the EV trend already is having an impact.
"There are a lot fewer machined parts in electric cars," Kurtz notes. "In a gasoline engine you've got a lot of drilling and milling done for the engine itself and then the transmission and rear end.
"You've still got a differential or drive train in the back in the electric car, but the need for [machined parts] in the transmission and electric motors is quite a bit less, so heavy machining is decreased in the electric car. In my opinion, I don't know how fast we'll migrate over to [electric cars], but they're out there for sure and it has made a difference."
Still, forecasters and analysts remain positive that the industry will remain strong.
"We do believe as electrification continues to increase in market share, it will have an impact on cutting tools demand," Jannick Thomsen, partner at international management consulting firm McKinsey & Company, told Industrial Distribution. "We also believe that from an aggregate perspective other markets will offset that potential impact."
Medical, defense, and oil & gas are among the segments from a growth perspective in the coming years that can help offset the anticipated decline in auto cutting tool demand as the all-EV shift takes hold, according to Thomsen, who adds that aerospace is expected to remain attractive.
While the general consensus among executives contacted is that oil & gas, traditionally subject to short-term price, production, and political swings, will continue to be a strong market, there is some longer-term uncertainty ahead for the sector if electric vehicles become dominant.
While oil & gas represents only about 10 percent of orders from member companies in the Association for Manufacturing Technology (AMT), Patrick W. McGibbon, vice president of the group, reports that for some companies the sector accounts for up to 25 percent of their overall business. "They took a pretty good size hit back in 2014," he says. "They've just been getting their legs back under them in the last year or six months when we saw these prices starting to waiver and some people got a little bit nervous about that."
The EV impact goes beyond automotive cutting tools, with potential ramifications from the oil & gas sector as well if fuel consumption drops significantly.
"One of our top customers is in the refinery business and that is where I have more concerns [over EV] because we're selling them cutting tools," Jason Zenger, owner of Zengers Industrial Supply, a distributor in Melrose Park, Illinois, tells Industrial Distribution. "Generally we're supplying them with a lot of their MRO and safety supplies and general industrial supplies and if oil output goes down those facilities are going to be maintained and repaired less often."
Flying Low and Slow
So, too, aerospace cutting tool manufacturers and distributors may soon have to adapt to a changing landscape. While still a healthy sector, McKinsey's Thomsen sees aerospace growth slipping behind defense and oil & gas over the coming three- to five-year period.
Already, some cutting tool manufacturers are beginning to notice changing order patterns and some slowing in that market, including Phoenix, Arizona-based R&D Manco, a long-established manufacturer of precision parts for aircraft, space, and military applications, where the company sees a growing trend toward modular fixturing, a reduction in setup times, and lengthening lead times.
"Aerospace has converted from high production to high-mix, low-run," according to Kevin Beach, general manager of R&D Manco and president of the Arizona Chapter of the National Tooling and Machining Association (NTMA). "With the trend, we need to change out machines as quickly as possible and we're not seeing the large orders that we used to see. Instead of several-hundred-piece orders we're seeing 10-piece orders, 50-piece orders. When that happens, you've got to change that machine out as quickly as you can to get it running on the next project."
Production levels are lower, but there are more platforms involved, Beach says, speculating that the trend may be prompted by a shift from major aerospace OEMs to just-in-time inventory planning—buying just enough to last for a quarter, whereas previously they might have been ordering enough inventory to last a year or two.
Lighter, More Durable Parts
Other challenges faced by cutting tool manufacturers in 2019 include the wider use of 3D printing, or additive manufacturing, and an increasing trend toward customization as new materials are being developed for lighter and more durable parts.
"We watch the market as composites come along reducing the number of holes to be drilled and 3D printing comes along reducing the amount of machining to be done, so there's a couple of market changes that are out there," says Wetmore's Kurtz. "I don't know when 3D printing will have a huge impact on the cutting tool market, but we do continue to watch it pretty closely."
On the positive side for cutting tool manufacturers, the potential negative impact of additive manufacturing on the industry appears to be somewhat limited for the foreseeable future, and even presents some positive results for cutting tool customers in development of prototypes.
"We're told that mass producing with 3D printing isn't very practical for parts that are currently being machined," according to Kurtz. "Prototyping is where it's at right now."
Another trend faced by cutting tool manufacturers today involves a growing move away from standardization.
"When you go back through the '80s, '90s, and early 2000s, it was all about the standardization of cutting tools, so when you looked at drills or reamers for aerospace, they wanted things made to a certain specification so that whoever they ordered it from they knew they would get the same thing made to the same stat," explains Stokey.
Today, with new materials coming into play, in many cases the move has been toward custom solutions rather than having a customer buying something off the shelf, putting it in the machine, and trying to make a part.
Finding and Retaining Talent
Every executive interviewed by Industrial Distribution for this article agreed that recruiting a new crop of talent into the cutting tools industry has become a top concern.
"It's among the top three conversations we have in the cutting tool world," according to Stokey, who adds that it likely will put pressure on the manufacturing engineers and designers to create simpler processes for people, find ways to become less people dependent, and/or less reliant on any one individual to do a specific job. "It's a problem that's not going to go away. You've got to be good at training or really good at engineering your process."
Meanwhile, various trade groups have embarked on programs to attract new workers to the field, including working with member companies and educational institutions on developing training programs.
A version of this article appears in the March 2019 issue of Industrial Distribution.