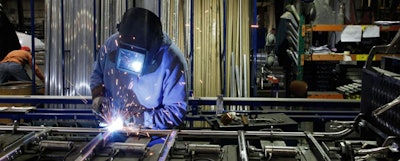 Economic activity in the manufacturing sector expanded in October, and the overall economy grew for the 114th consecutive month, say the nation's supply executives in the latest Manufacturing ISM Report On Business.
The report was issued today by Timothy R. Fiore, CPSM, C.P.M., Chair of the Institute for Supply Management (ISM) Manufacturing Business Survey Committee: "The October PMI registered 57.7 percent, a decrease of 2.1 percentage points from the September reading of 59.8 percent. The New Orders Index registered 57.4 percent, a decrease of 4.4 percentage points from the September reading of 61.8 percent. The Production Index registered 59.9 percent, a 4 percentage point decrease compared to the September reading of 63.9 percent. The Employment Index registered 56.8 percent, a decrease of 2 percentage points from the September reading of 58.8 percent. The Supplier Deliveries Index registered 63.8 percent, a 2.7-percentage point increase from the September reading of 61.1 percent. The Inventories Index registered 50.7 percent, a decrease of 2.6 percentage points from the September reading of 53.3 percent. The Prices Index registered 71.6 percent, a 4.7-percentage point increase from the September reading of 66.9 percent, indicating higher raw materials prices for the 32nd consecutive month.
"Comments from the panel reflect continued expanding business strength. Demand remains moderately strong, with the New Orders Index easing to below 60 percent for the first time since April 2017, the Customers' Inventories Index remaining low but improving, and the Backlog of Orders Index remaining steady. Consumption softened, with production and employment continuing to expand, but at lower levels compared to September. Inputs — expressed as supplier deliveries (increased), inventories and imports — retained September's levels. Continued supply chain delivery difficulties led to an increased consumption of inventory, and import expansion was stable. Lead-time extensions continue, while steel and aluminum prices are stabilizing. Supplier labor issues and transportation difficulties continue to disrupt production, but at more manageable levels.
"The expansion of new export orders softened, but five of six major industries contributed, up from two in September. Prices pressure continues, with the index returning above 70 percent. Overall, the manufacturing community continues to expand, but at the lowest level since April 2018," says Fiore.
Of the 18 manufacturing industries, 13 reported growth in October, in the following order: Textile Mills; Electrical Equipment, Appliances & Components; Apparel, Leather & Allied Products; Plastics & Rubber Products; Food, Beverage & Tobacco Products; Computer & Electronic Products; Furniture & Related Products; Miscellaneous Manufacturing; Machinery; Transportation Equipment; Printing & Related Support Activities; Chemical Products; and Paper Products. The four industries reporting contraction in October are: Wood Products; Primary Metals; Nonmetallic Mineral Products; and Fabricated Metal Products.
Manufacturing at a Glance — October 2018
Index
Series Index Oct
Series Index Sep
Percentage Point Change
Direction
Rate of Change
Trend* (Months)
PMI
57.7
59.8
-2.1
Growing
Slower
26
New Orders
57.4
61.8
-4.4
Growing
Slower
34
Production
59.9
63.9
-4.0
Growing
Slower
26
Employment
56.8
58.8
-2.0
Growing
Slower
25
Supplier Deliveries
63.8
61.1
+2.7
Slowing
Faster
25
Inventories
50.7
53.3
-2.6
Growing
Slower
10
Customers' Inventories
43.3
40.5
+2.8
Too Low
Slower
25
Prices
71.6
66.9
+4.7
Increasing
Faster
32
Backlog of Orders
55.8
55.7
+0.1
Growing
Faster
21
New Export Orders
52.2
56.0
-3.8
Growing
Slower
32
Imports
54.3
54.5
-0.2
Growing
Slower
21
OVERALL ECONOMY
Growing
Slower
114
Manufacturing Sector
Growing
Slower
26
Manufacturing ISM®Report On Business data is seasonally adjusted for the New Orders, Production, Employment and Supplier Deliveries Indexes.
*Number of months moving in current direction.