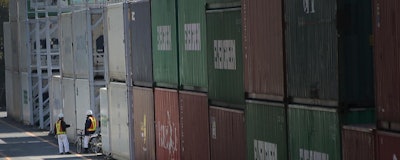 Vietnam's National Assembly on Monday ratified a Pacific Rim trade deal abandoned by U.S. President Donald Trump, but still being pushed forward by 11 other members.
The Comprehensive and Progressive Agreement for Trans-Pacific Partnership or CPTPP will take effect at the year's end after Australia became the sixth nation to ratify it last month.
Trump pulled out of the pact just days after taking office last year, saying multilateral trade agreements cost American jobs and that he would prefer bilateral trade agreements.
The remaining 11-members account for more than 13 percent of the world's GDP.
Vietnam is expected to be one of the members that would most benefit from it with its strong base of exports of cellphones, garments, shoes, seafood and agricultural products. A government study says the pact will boost Vietnam's GDP by 1.3 percentage points, while exports will also increase by 4 percentage points by 2035.
State-run online newspaper VnExpress reported the legislators unanimously approved a resolution to ratify the pact Monday.
It said the resolution asked government to prepare to take advantage of the trade pact while minimizing the negative impact it poses.
"The government should pay attention to training of human resources to take advantage and sustain opportunities and benefits created by CPTPP and build measures to prevent and handle negative impacts which could occur while implementing it," the paper quoted the resolution as saying.
New Zealand, Canada, Japan, Mexico, Singapore, Australia and Vietnam have ratified the pact. Malaysia, Brunei, Peru and Chile have yet to ratify it.