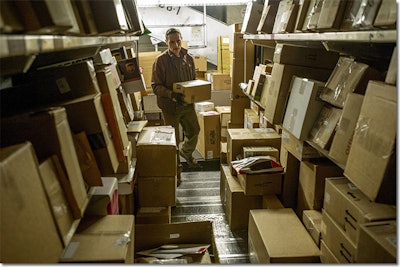 DETROIT — Covisint Corporation a cloud platform provider enabling the Internet of Things and Identity Management-centric solutions, and FreightVerify, a technology company transforming how business is done in the freight industry, announced Monday that they have launched a new in-transit inventory initiative that utilizes the latest connected technologies to provide real-time visibility.
Utilizing the Covisint Platform technologies, the FreightVerify service combines predictive analytics with real-time data so that organizations can proactively manage freight exception issues. For many manufacturing organizations, freight accounts for the largest expense and by providing greater visibility organizations can reduce expensive expedited freight costs, decrease the amount of buffer inventory on hand and minimize costly production scheduling issues. This new service brings together the many disparate connected services that are in place today including mobile devices, connected trucks and traditional messaging so that shipping organizations have a single, real-time view of operations.
"Freight is a massive part of the global supply chain and is comprised of a far-reaching network of shippers, carriers, logistics service providers and their extended ecosystem of customers and partners," said David McGuffie, President and CEO, FreightVerify. "By combining the significant connected technologies that each of these groups brings to the table, we are able to deliver unprecedented visibility into their operations and that is invaluable to them. With Covisint's highly scalable and secure platform, and already connected global supply chain network, we're able to offer our customers a solution that gives them granular visibility and actionable insight into critical aspects of their supply chain, enabling them to reduce costs, increase productivity and drive their businesses forward."
The flexibility of the Covisint Platform allows for industry-agnostic, on-demand elasticity, enabling FreightVerify to deliver infinitely scalable solutions to meet peak demands. The benefits each organization brings to the new initiative include:
Covisint:
Enterprise-grade cloud platform, proven at scale with some of the world's largest organizations.
Expertise in on-boarding complex B2B integrations for the largest organizations in the world -- a capability that will be leveraged with the FreightVerify service as new carriers are on-boarded.
Unique positioning within the global automotive supply chain, resulting in simple connection of freight carriers from an end-to-end visibility standpoint.
Ability to provide the end-to-end integrations and connections, where FreightVerify provides the visibility solution.
FreightVerify:
Reduces redundant administrative cost, complexity and time burdens for both Shippers and Carriers.
Provides greater visibility of in-transit inventory in real-time allowing organizations to optimize their business.
Offers a simple, non-intrusive implementation process utilizing the power of modern connected devices.
Allows for more accurate analytics on current business processes.
Enables organizations to proactively manage freight exceptions before they become a problem.
"The evolution of the Internet of Things and connected technologies is transforming the way organizations do business. The freight industry faces the same challenges, where it is increasingly important that links across supply chains are constantly connected -- ensuring that product is arriving when and where it should," said Sam Inman, Chairman and CEO, Covisint. "We are enabling FreightVerify to deliver the kind of real-time mobile connectivity its customers expect. This relationship is a prime example of partner organizations leveraging our platform to address industry-specific business opportunities."
The FreightVerify solution is being launched at the Automotive Logistics Global 2015 conference, taking place on September 22-24 in Detroit. Covisint and FreightVerify will be on hand to provide further details on the FreightVerify solution and the companies' partnership. To register for the event, click here.