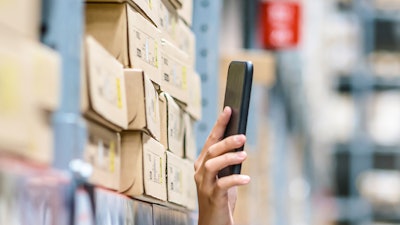 iStock
Inventory is the lifeblood of a warehouse and critical to operational success. Mastering the art of inventory management, including the counting, tracking and utilization of products throughout the supply chain process, is crucial for companies looking to reduce costs and grow their operation.
Yet inventory management professionals continue to face a plethora of problems, including over/understocking, inaccurate inventory data, and traceability. Plus, according to the RFgen Digital Inventory Report, market trends like shipping/receiving, staffing and rising input costs are all adding up to a unique economic environment.
Now more than ever, it is important for industrial organizations and warehouses to be proactive in preventing inventory management mistakes. Mobile inventory management is a must-have for forward-thinking industrial organizations, with the market for these solutions poised to grow by $1.78 billion through 2026. Plain and simple, these tools provide a more effective and efficient way of doing business.
By streamlining data transfer and automating critical business information through these types of tools, you can ensure a smooth supply chain operation while minimizing overhead. Here are five mistakes to watch for and how to fix them with mobile automation solutions.
Human Error
Manual inventory tracking processes are still very much a reality today and the costs can add up quickly. The use of paper tickets or spreadsheets opens your company up to errors and significant resource loss. One estimate shows that even a 10% inaccuracy could cost a company up to $10,000 per day. Over the course of a year, that adds up to over $3 million.
Not only do these inaccurate counts cost you significant resources, but over time the bad data builds, impacting supply chain workflows and making it difficult to resolve inaccurate information.
Automating inventory management can help solve many of these problems. Mobile solutions enable fast and efficient control and oversight of your operation, helping you maintain profitability and streamline workflows.
This happens because workers are equipped with mobile devices such as barcode scanners, smartphones or tablets that record movement of product, updating your system in real-time. The result is a 99.9% accuracy, saving companies upwards of $3 million a year.
Inefficient Workflows
Inefficient handling of inventory ultimately results in wasted productivity. Workers may spend up to 2/3 of their shift looking for stock – this tedious process wastes valuable time and effort and can leave your employees prone to injury.
In an age of faster shipping times and increased customer demand, inefficient workflows can cause big obstacles. Every moment an employee spends on unnecessary manual supply chain processes is a moment that could have been spent on something of more value for your operation.
Mobile barcoding and automated data collection can be a time-saving, morale boosting measure. By equipping workers with mobile barcode scanners, your team can reduce awkward movements on the warehouse floor and restructure inventory flow for optimized efficiency. Over time, data from your mobile barcode scanners can even allow you to rearrange your warehouse floor plan for better utilization.
Data Silos
When inventory is entered into spreadsheets, or when information transfer is delayed through a disruption in service, companies experience a lack of inventory visibility – they struggle to find both the quantity and location of stock. Supply chain experts have estimated that accuracy with paper processes is at most 60%.
Poor data quality can lead to delayed deliveries, stock discrepancies, errors in order management, work stoppages, and more. That's because siloed data (whether in spreadsheet or software application) is essentially trapped in one location. This ultimately renders the data useless for decision making or even basic visibility across the warehouse.
The key to better accuracy begins with automated data collection. Automating data collection at key stages throughout the supply chain process can help you track and analyze inventory in real-time, even in multiple locations. It can improve production processes, quality of workflows and more, transforming the use of traditional inventory approaches.
Barcode solutions, mobile apps for ERP systems and RFID technologies digitize your operation for optimal performance through automatic identification and data capture. By choosing tools with integration capabilities, ease of training and scalability, you can work toward perfect accuracy and increased agility and traceability.
In addition, coupling automated data collection with emerging technologies like AI or the Internet of Things can allow you to improve through enhanced predictive maintenance, automated replenishment, accurate delivery forecasts and streamlined optimization of movement across the shop floor.
Inaccurate Purchasing
The role of purchasing is essential to inventory control and stock level optimization. Quality purchasing management techniques allow you to buy products in an efficient manner, limiting your costs while also increasing your profits.
However, when purchasing isn't monitored, errors abound. In fact, 44% of Digital Inventory Report respondents state over or understocking of inventory as a critical challenge. The result is an inefficient supply chain, an inability to meet customer demand, and a lack of real-time data.
Knowing how much stock you have and where exactly it is located is critical. Couple this with moving items across multiple facilities and the cost of inaccurate inventory or over purchasing can really add up. That's where an ERP integrated inventory management system with mobile capabilities can help enhance productivity. Organizations who integrate inventory control and purchasing through automated data collection and forecasting can improve accuracy and reduce costs. A mobile inventory management system allows the workforce to access data anytime, anywhere. Further, with added features like auto replenishment, safety stock calculations, data metrics, and tracking options, your company creates a single source of truth for inventory needs.
Delays
Today's marketplace is driven by digital advancements and rapidly changing customer expectations. Yet many warehouses' usage of lagging technology is adding up to issues across the production line, resulting in delays and decreased customer satisfaction.
Misplaced or lost inventory and lack of streamlined inventory management results in wrong orders, inaccurate item availability and late deliveries. Further, insufficient materials can lead to stoppages in production. This all can quickly adds up to bottlenecks and lost customers.
In an age where a heightened focus on customer experience is crucial, mobile automation can mean delivering perfect orders on time and utilizing real-time data for communication and barcode labeling. In fact, studies have shown that 40% of warehouse executives are committing to faster, more transparent delivery as an indicator for growth.
Our research shows similar results, with 59% of companies from the Digital Inventory Report now planning to increase supply chain technology spend in the upcoming years. They've realized digitally optimized business is good business and can have a direct impact on strategy and expansion of operations.
The Importance of Mobile Automation in Inventory Management
Companies' experiences with mobile automation range from manual systems to fully automated operations, and everything in between. Yet for many, the addition of digital optimization into warehouse operations has not been fully realized. Only 16% of Digital Inventory Report participants feel their company's mobile systems are sufficient to meet their current needs.
It's time for organizations to embrace the use of mobile technologies to directly address inventory issues head on. By automating data flow across the organization and utilizing barcode scanning, companies can see real-time information and optimize supply chain flows for more cost savings.
Rob Brice is the CTO and president of RFgen.