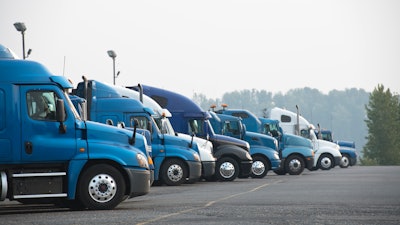 iStock
You've probably come across the terms "EDI" and "API" in conversations with customers and business partners. You'll hear these terms most often while discussing the process of integrating software with that of clients and business partners.
If you've never implemented an EDI or API connection before, or if you're vaguely aware of the concepts but don't know their precise meaning, you may be confused as to what they refer to. When comparing EDI with APIs, what are the key differences?
EDI
Electronic Document Interchange (EDI), based on older technology dating back to the early days of computer use, is all about - you guessed it - exchanging documents. Initially, it was designed to speed up tasks previously done on paper. Think of replacing the traditional method of sending documents in the mail, including catalogs and purchase orders, among other things.
In spite of being older, EDI is still used for many tasks within the transportation industry today, such as sending load tenders, status updates, and invoices. Continuous document movement is the key. Imagine a customer sending a load tender. An EDI version of that load tender will be generated by their software. The computer version, however, can look illegible and ugly at this stage since it is designed to be read by computers rather than humans. Once the customer generates the document, the software will turn it into something that can be read by humans. As soon as you receive it in a readable form, a decision is made whether the load is accepted or denied.
When properly configured, EDIs work quickly and efficiently to transfer information between parties. The biggest problem with them is that they can be difficult to set up. This involves talking to many people and defining in detail how computer-readable documents should appear. The process may also necessitate interaction with multiple suppliers simultaneously.
API
APIs allow for the integration of several systems for the purpose of editing and sharing the data they contain, as well as the automation of user operations within their software. Document sharing and other in-app operations are examples of this kind of activity.
Users can click around the site, input their orders, and then dispatch them to drivers. With an API, the computer can handle all of those tasks for the user. In addition to creating orders, APIs can help dispatch the loads, allowing a company to write a program that can be integrated with someone else's application. When one API can interact with another, companies can collaborate in all kinds of ways.
Integrations with financial programs like Xero and QuickBooks help speed up the process by which bills and invoices are created and sent to those programs for payment. Consider the standard procedure, in which consumers must place an order and then manually assign it to a driver. Common APIs in a TMS will automate these repetitive trucking-specific operations, and the system will also be compatible with the apps and software they already use. The use of an API to integrate with third-party technologies like BorderConnect to simplify ELD compliance and border crossing is another illustration of API functionality.
Which is the best choice for your organization?
The simplest way to explain the difference between these two options is that EDI is about exchanging documents, while APIs are about carrying out actions. As both systems work to save time by transferring electronic files, invoices can be paid more quickly, orders can be expedited more quickly, and electronic records can be transferred safely.
Even though many companies are shifting to an API-first strategy, EDI is still widely used in the transportation industry and is unlikely to disappear anytime soon. The fact that it has been around for quite some time does not mean it's out of date. EDI has evolved to meet industry-specific requirements and laws, and its integration can offer significant benefits when optimized correctly. Many large organizations and retailers use EDIs. Their orders will likely be sent by EDI to trucking companies, and those companies will use EDI to send updates and invoices back to them. Customers usually tell trucking companies if they need to use EDI, eliminating any confusion as to whether the technology should be pursued by carriers or brokers.
The opportunity to explore API is when a transportation company's customers are interested in utilizing more technology. If they want to automate order flows, manifest dispatch, or anything else not already built, APIs are the way to go. With API integration, trucking companies can get real-time information on various software, applications, and platforms, all while supporting data exchange systems. As a result, there is complete transparency and maximum efficiency. Because APIs do not require ongoing maintenance or translation services, the implementation of APIs can be less costly than EDI. It is a great way for transportation businesses to compete and succeed.
Connecting to a TMS System
Separately, EDI and API can reap many benefits for a company. They can facilitate downstream business procedures and data planning by providing context to all integrations within a digital ecosystem. By combining both capabilities into a single TMS, data exchange capabilities will be strengthened for a diverse set of customers.
Whether adopting EDI, APIs, or using both simultaneously, setting them up and conducting maintenance and updates can be time-consuming and difficult. To optimize the integration with clients or partners in a way that supports safe data transmission that is always easy, dependable, and transparent, carriers and brokers need a TMS partner with a deep domain understanding of both.
Justin Bailie is the co-founder and chief strategy officer at Rose Rocket.