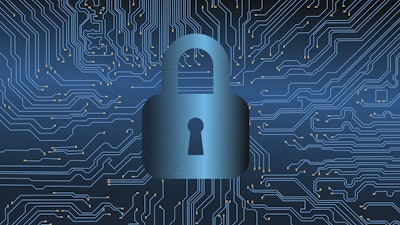 Cybersecurity is not a new topic in today's world of supply chain management, but shippers often overlook the cybersecurity issues that exist with high-tech inbound freight management. Even if a shipper does everything right and checks all cybersecurity measures, it is possible for suppliers and vendors to introduce an element of criminal activity and maliciousness into the supply chain.
No company wants to believe suppliers and vendors will do this, but history teaches that even companies around the globe with little or nothing to do with your company may be on the verge of launching a cyber-attack. It's a grim prospect, and the 2018 Verizon Data Breach Investigations Report, explains Cyren.com, shows that smaller businesses are more likely to be the target of cybercrime 58 percent of the time. So, shippers need to understand what's causing this high-tech inbound freight management security crisis, its fundamental aspects, and a few essential tips to overcome it.
Causes of the Security Crisis
Some top issues affecting cybersecurity among high-tech supply chains include:
Higher supply chain complexity.
Poor visibility into supply chain functions and processes.
Problems with subpar third-party supply chain partner cybersecurity.
Failure to recognize the risk.
Competition and demand to understand new technologies around the globe.
Capgemini approximations suggest the value-add of connected products manufacturing will rise from $519 billion to $685 billion by 2020.
Shippers Must Recognize the Risks First
According to Bob Trebilcock of Logistics Management, 75 percent of survey respondents claim to be confident in cybersecurity, but the majority are using out-of-date cybersecurity initiatives. Cybersecurity best practices of even five years prior are susceptible to a higher risk for cyber-attack or malware introduction. Unfortunately, the false perception of safety among today's supply chain executives, especially those in high-tech markets, presents additional risks to consumers. Thus, shippers have the burden of recognizing the risks that it is from simple processes, including shipping to the dock for receiving and ordering supplies or raw materials.
How to Overcome the High-Tech Inbound Freight Management Cybersecurity Crisis
As noted by Louis Columbus via Forbes, high-tech shippers must follow four steps to reducing inbound cybersecurity risks, including:
Reduce Your Risk Within High-Tech Inbound Freight Management
High-tech manufacturers and products will always have higher cybersecurity risks, and this risk is expanding as more devices are created with smart capabilities. Even the average toaster includes smart features, presenting potential cybersecurity threats. Unfortunately, the best cybersecurity initiative on the planet can do nothing about risks and physical tampering that may occur within the supply chain stage of manufacturing or shipping. As a result, shippers need to gain additional control and eliminate risks within high-tech inbound freight management through accountable, verified processes, as well as working with a trusted supplier and transportation network.
A version of this story first appeared on the Cerasis blog.
Adam Robinson oversees the overall marketing strategy for Cerasis including website development, social media and content marketing, trade show marketing, email campaigns, and webinar marketing. Mr. Robinson works with the business development department to create messaging that attracts the right decision makers, gaining inbound leads and increasing brand awareness all while shortening sales cycles, the time it takes to gain sales appointments and set proper sales and execution expectations.