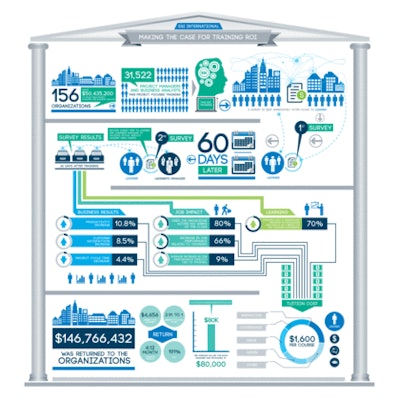 ESI International Study Alerts Organizations to Take Return on Investment (ROI) Approach to Training Programs or Risk Losing Them
Step-by-Step Process Shows How to Calculate Training Impact on the Business
ARLINGTON, VA, USA – ESI International, the world's leading project management training company, announced the release of a new research study titled "Training ROI: If Someone Asks You've Already Lost Your Budget." The study explains how those responsible for organizational development can prove the value of their training programs through a practical and straightforward approach to ROI.
"Training budgets are under attack," said ESI Vice President, Mark Bashrum. "It is time for L&D managers to either stand up and fight for their learning programs or risk losing them."
The study shares the results of a comprehensive study that applies ESI's ROI methodology to 156 clients and 31,522 students.
"Training dollars compete against other funding requests on a daily basis," said ESI Executive Vice President, J. LeRoy Ward. "In today's environment, it is not enough to simply measure how well a learning program is delivered. Those responsible for training need to provide proof to the business that their programs are having a measurable impact on the bottom line."
The study outlines a step-by-step process for calculating ROI that is practical for learning organizations to implement, and also produces meaningful and credible information to the business. It discusses some of the common misconceptions of ROI, provides foundational building blocks for conducting an ROI survey, and concludes with an actual ROI case study to demonstrate best practices for boosting return.
"L&D professionals often struggle with articulating how training dollars can directly impact the bottom line," continued Ward. "Our study offers a direct roadmap to accomplishing that and offers concrete proof that it works, based on an ROI study that ESI conducted using data from hundreds of clients and thousands of students."
Click on the photo below for an enlarged version of the infographic released alongside the report.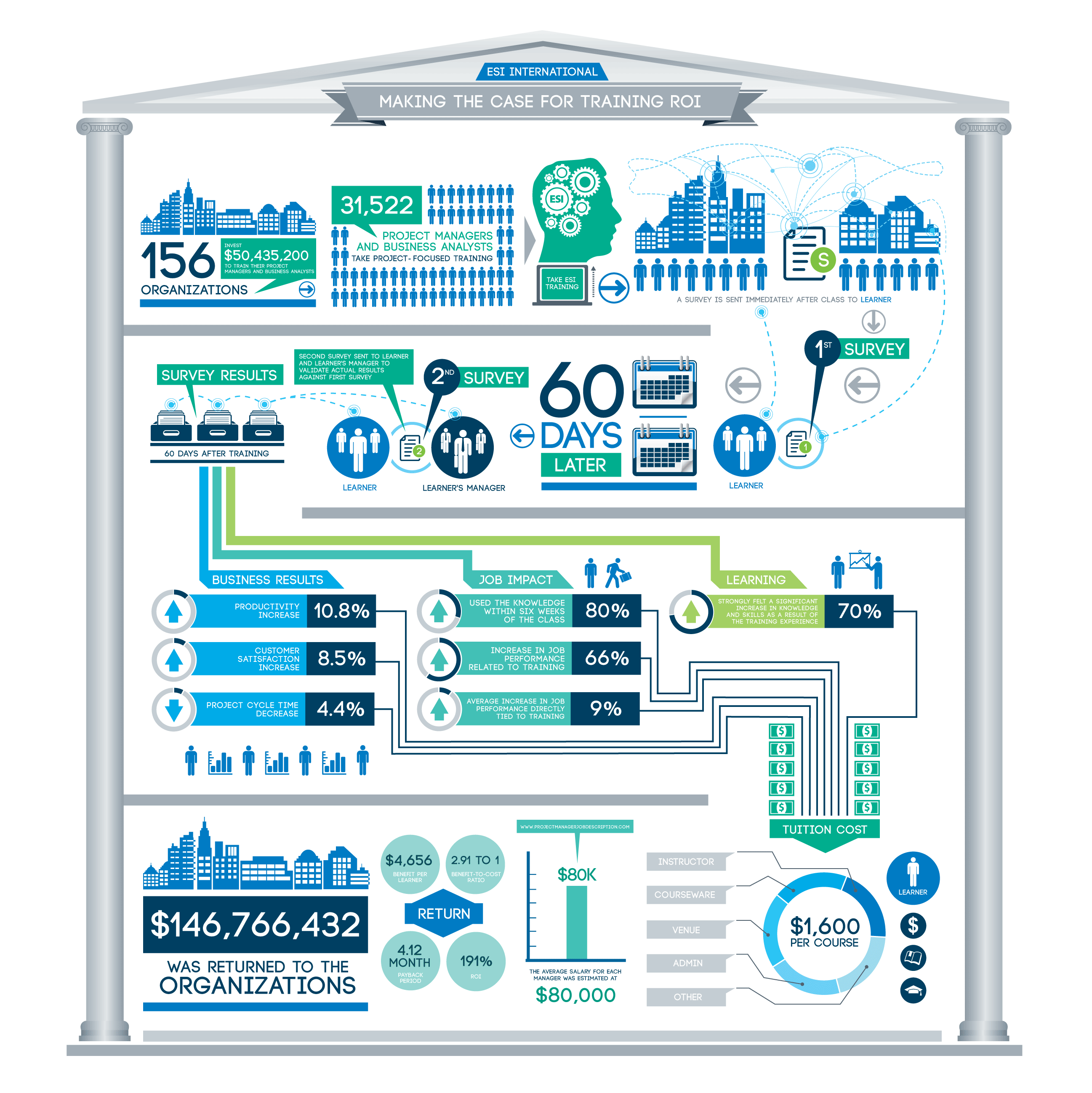 Click to download the Training ROI research paper.
About ESI International
ESI, a subsidiary of Informa plc (LSE:INF), helps people around the world improve the way they manage projects, contracts, requirements and vendors through innovative project management training, business analysis training and contract management training. In addition to ESI's more than 100 courses delivered in more than a dozen languages at hundreds of locations worldwide, ESI offers several certificate programs through our educational partner, The George Washington University in Washington, D.C. Founded in 1981, ESI's worldwide headquarters are in Arlington, VA, USA. To date, ESI's programs have benefited more than 1.35 million professionals worldwide. For more information visit www.esi-intl.com.