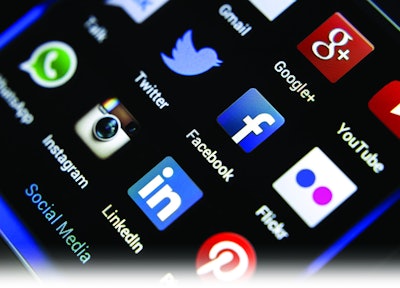 Companies should be leveraging the marketing opportunities inherent in social media.
Social media: should you be allocating valuable time and resources to this modern day tool? After speaking with a number of distributors, marketers, and industry partners in the distribution channel, the overwhelming conclusion is "yes."
Jody Costa, the Director of Marketing at Barcoding, Inc., has spent the last several years developing and honing Barcoding's social strategy. "Social is important in the distribution space for the same reasons that is it important in any industry: it is a way that people communicate," she says. "The entire goal is to talk to people." Just like having a call center at your location and an email contact form on your website, social media is a way for your customers to talk to you — and for you to be speaking with them.

What Social Can Do For Distribution
The advantages of social media vary depending on the social channel, but all of them help raise brand awareness and visibility in the noise of the online world. Having several, well-focused social channels can show that a distributor is striving to be at the cutting edge of technology solutions in their field, as well as act as a collaborative industry partner.
"While not all social media sites are proving as effective as others, they offer distributors a chance to present products, discuss them in more – and more personal – detail, as well as engage with clients," says Michael Wilson, Director of Marketing at Afflink, a sales and marketing organization that often partners with distributors. These are important activities for any distribution business.
Here are the big channels to look at:
Twitter is best used to share content – your own and other peoples' – to raise awareness that your company knows what it is talking about in the distribution space. Since the network is very fast, with only 140-character updates, it's also a great place to send out emergency notifications to your followers if systems go down, and to share flash sale promotional details, but not necessarily the best for lengthy customer service conversations.
Google+ (pronounced Google Plus, and often shortened to G+), is a tool that every business should be using. "Having a profile on G+ allows you to link that profile with the company listing on Google and your physical brick-and-mortar address, which boosts your ability to be found when someone is searching for a distributor in the area where you serve," says Matt Sonnhalter, Vision Architect at Sonnhalter, a B2B advertising agency. Costa also recommends that distributors check out G+ simply because it is Google and being on their social platform truly enhances your page rank, i.e. your ability to be found in web searches.
Facebook can be hit or miss for distribution. Some companies have a lot of success with it, hosting photo contents and sharing employee news. There is the chance to "boost" your reach through paid advertising, as with most other platforms, and the Facebook Page insights are top notch, allowing administrators to sort their followers by age, location, and other demographics to run targeted ad campaigns. However, Facebook is a noisy place, and company messaging can get lost among the chatter if you aren't willing to spend ad dollars there.
LinkedIn is the most business-targeted social network, revolving around resumes and industry groups where professionals from all career paths can get together to discuss business. Says Wilson: "One distributor told me that when he is interested in calling on a perspective company, he goes to LinkedIn to find out who would be making purchasing decisions for the company and then as much about that person as possible. He then uses LinkedIn to see if they share any connections. He says it helps turn a cold call into a warm call."
While those are the big networks, other social sites are emerging every day that promise to be the next wave of social. Two of the more popular ones in recent years include Instagram, a network that allows users to upload photos and use hashtags to create communities, and Pinterest, a site that functions as an online pin board where users are able to "pin" their favorite things. While both of these are a bit of a stretch for the industrial space (Grainger is using Instagram to reach Millennials more, and Barcoding enjoys using their Pinterest account to create a go-to page that houses videos and images that their sales team can access on the road), they represent the ever-growing trend of visual media. It's a trend that distributors should be aware of, as customers are constantly wanting to engage more and more in a visual way, and appreciate glimpses of life behind the curtain via images on social media.
The best advice: pick the social site that you are most comfortable with or that you feel has the most value for your customer base. "Don't spread yourself too thin," cautions Sonnhalter. "Don't expand to new sites before you can confidently say that you're doing a good job on the ones that you are already using."
Says Costa, "Social is going to continue to grow as a communication tool, as an expertise sharing perspective. It is also going to be important for customer service." Meeting customers where they are is really the purpose of social — and isn't that the purpose of distribution, too?

There are distributor objections to jumping into the social sphere, however.
Objection #1: B2B is different than B2C.
One argument is that business-to-business is a different sort of conversation than business-to-consumer marketing, but Grainger's Senior Manager of Social Business, Sherri Maxson, points out that there is no difference at all. "At the end of the day," Maxson says, "the difference between B2B and B2C social doesn't exist: it is all human-to-human communication." As the distribution industry has seen over and over again with e-commerce, customers want to have access to the knowledge and the products they need in the channels that they prefer, and social media is one of those channels today.

Objection #2: I don't want my employees wasting time on social media at work.
Barcoding's Costa notes that many companies see social as a waste of time. Her counter? "You are always going to have employees wasting time." She encourages companies to leverage their employees' tendencies toward clicking through their social channels and harness the power for the brand. "A presence on social media communicates that a distributor is keeping itself current," says Sonnhalter. This is important both on the front end, where customers can see your efforts to stay relevant, and within the company as well. Employers that reject the entire premise of social media are missing out on the chance to engage a younger generation of employees — and a younger generation of customers.

Objection #3: I've never gotten leads from Twitter.
The trick to social media isn't to allow it to replace all of your other marketing efforts put together, it's to offer one more way for a customer to connect with you, and for your business to be a thought leader in the industry. "If you are rejecting social media purely because none of the 'leads' ever convert, you have the wrong goals for your social media accounts," says Costa. "Barcoding, Inc. is on Twitter and Facebook and the other social channels to communicate. Our efforts in communicating and strengthening that brand is a way to start a relationship and possibly create that sale down the road."

For more tips on social, visit www.inddist.com/social.