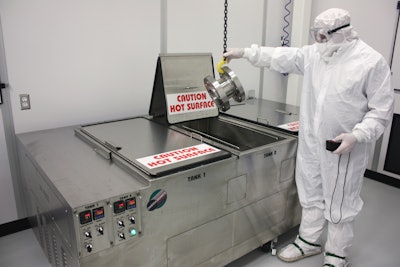 Houston, TX - MOGAS Industries, Inc is excited to announce a new division, Momentum Services, which will begin operations immediately. Momentum Services will initially be responsible for industrial customers requiring precision cleaning of equipment for stringent service. "Unlike other cleanrooms in this region, Momentum Services will have the unique capability of handling heavy components with our 2, 3 and 5 ton cranes. We currently have over 3,000 square feet of clean environment with more than 1,400 square feet of that footprint dedicated to procedural cleaning, assembly and packaging. Also of great interest is Momentum Services' uncommon ability to adapt to a variety of shapes and sizes from small to large and from standard shapes to unusual configurations. This includes everything from valves, piping, tubing, fittings and other industrial equipment," said Sam Furman, VP of Operations. Furman continues, "Our service technicians will prepare, clean and verify each component according to strict customer specifications and relevant industry standards. After each item is thoroughly cleaned, they will be bagged, labeled and fully documented." The ability to clean components without having to ship them across country will have a great impact on the delivery schedules of customers within the greater Houston area. Local cleaning will shorten their shipments by a significant margin.
Momentum Services' cleanrooms are ISO Class 7 (Class 10,000) certified and are focused 100% to precision cleaning. For example, cleaning equipment for oxygen service is an important step prior to installing into a serious application. Having impurities in an oxygen-enriched system, especially hydrocarbons, can cause unacceptable product purity issues or present a dangerous combustion hazard. It is critical to properly clean components for oxygen systems to eliminate the potential for such issues.
"We are excited to embark on this new endeavor using our 39 years of industrial experience as a basis for proven performance and customer satisfaction. We have a profound knowledge of the severe service market and the stringent requirements necessary for these type of critical applications," reports Matt Mogas, CEO and President. For more information, visit www.momentumsvcs.com .
About Momentum Services
Momentum Services, newest division of MOGAS Industries, Inc, provides precision cleaning of industrial equipment for the refining, petrochemical, chemical, aerospace, polysilicon and mining/metals markets. Located on the MOGAS corporate campus in Houston, Texas, this 3,000 square foot clean environment can offer precision cleaning such as cleaning for oxygen service, aqueous cleaning and degreasing services. This fully equipped, certified and professionally maintained cleaning facility is in compliance with relevant industry standards as well as offering the ability to accommodate the unique requirements of individual customers. Unique to Momentum Services is its ability to handle heavy industrial components and/or unusual shapes.
About MOGAS
MOGAS enjoys a global reputation as supplier of the world's best severe service ball valves for the most extreme industrial applications selling primarily to power, mining, and process and specialty application industries. MOGAS standard metal-seated isolation and rotary control ball valves range in size from ½–36" and are available in 150 to 4500 ASME pressure classes. Larger sizes and unique material requirements are available upon request. MOGAS defines severe service as: extreme temperatures, high pressures, acidic products, abrasive particulates, corrosive media, viscous sludge, lethal services, heavy solids build-up, critical plant safety, large pressure differentials, velocity control and/or noise control.